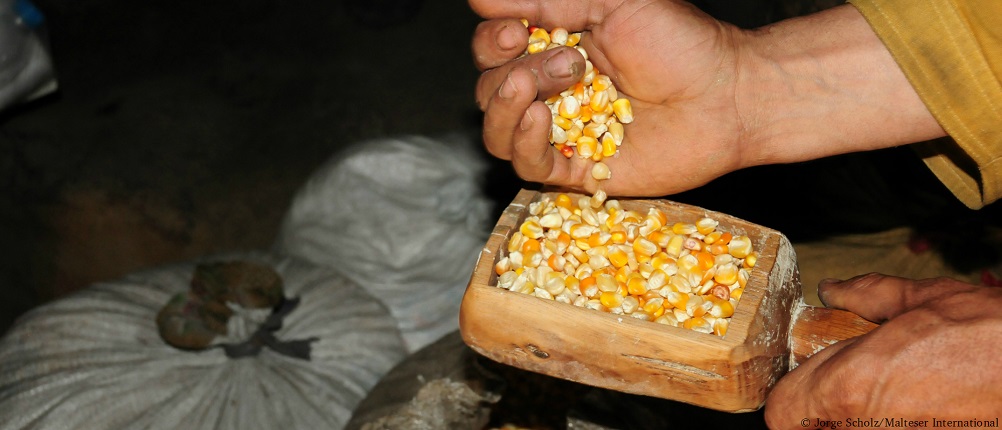 Fighting hunger and poverty
For the thousands of people in Pakistan who have lost their livelihood as a consequence of disasters like monsoon rain, flooding or earthquakes, life can be a daily struggle for survival. Apart from working their land, subsistence farmers have almost no opportunity to earn money to feed their families. When this becomes impossible, the consequences can be devastating. Malteser International is working in the Swat district of Khyber Pakhtunkhwa Province to help alleviate this situation by giving people the help they need to help themselves.
Around 60 per cent of Pakistan's population live in rural areas, and are strongly dependent on agriculture for their survival. The precariousness of their lives means that when natural and man-made disasters strike, they are especially vulnerable. Events like the 2005 earthquake, or the devastating floods of 2010 cost the lives of thousands and destroyed essential infrastructure. Roads, bridges and houses were ruined, and many people lost everything they had, including the animals and crops in their fields. When day-to day life itself is a struggle to survive, rebuilding from nothing often looks like an insurmountable challenge. Since 2010, Malteser International has been engaged in fighting the growing poverty and associated hunger in rural north Pakistan through a variety of measures.
Improve the availability of food in the target communities and use tailored solutions to protect them from future disasters.
Strengthen the capacity of the population in the fields of disaster risk reduction and emergency relief.
Increased stability of the projects through cooperation with government authorities.
Providing employment through infrastructure projects such as the construction of irrigation channels, water mills etc.
Maintenance of dams and sewerage systems, diversion of water flows-
Plantation of native tree species to stabilize agricultural land and provide security from landslides.
Information campaigns in endangered communities.
Training on behavior in crisis situations.
Active incorporation of the relevant official organs in the implementation of projects through regular visits, participation in workshops, and support in the field of disaster risk reduction.
Country info
Capital: Islamabad
Area: 796,095 km²
Population: c. 182.1 Million
Project data
Project duration: since July 2015
Donors: Swiss Agency for Development and Cooperation, UN World Food Programme, private donations
Last updated: July 2016