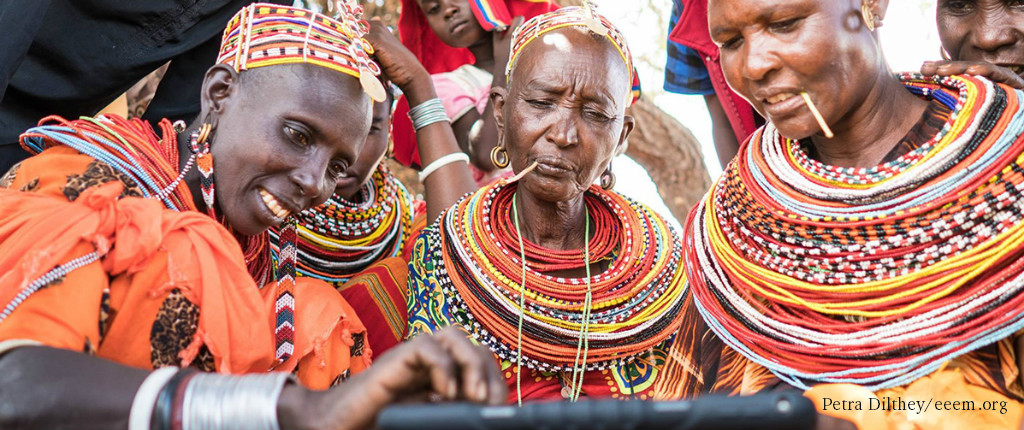 Learning to read and write with eBooks
The nomadic and seminomadic herdsmen of the dry northern parts of Kenya are highly adapted to the harsh conditions of their home territory – living a lifestyle far more efficient, sustainable and environmentally friendly than any in the West. But adapting to the challenges of interacting with an increasingly complex modern society, economic changes, and the effects of a warming climate are more difficult for a community which remains up to ninety percent illiterate.

Together with its partner organization, Malteser International is using cutting edge technology in the form of tablet computers and eBooks to help the Gabra and Borana of the Hurri Hills near to the Ethiopian border, as well as the people of Loiyangalani near to the drought-prone Lake Turkana, to improve their literacy and livelihood with programs developed out of years of close contact and cooperation with locals.
The traditional lifestyle of the nomads and semi-nomads of northern Kenya is under existential threat. Longer drought periods caused by climate change, and increasingly irregular rainy seasons weaken their herds – leaving them more vulnerable to sickness, and costing the lives of some of their cattle. Even for the members of these highly-autonomous communities, using money is unavoidable – even at local markets. But because around ninety percent of the nomads and semi-nomads are illiterate, it is difficult for them to make use of banks and financial services. Meanwhile, their uncertain approach to money means that they often sell their animals too cheaply, while purchasing goods and services at an inflated cost.

This unique and innovative project, initiated by Malteser International's partner 'Up4Change', offers locals the chance to improve their literacy and numeracy, and receive training basic market principles using tablets and eBooks. This unquestionably modern approach should help to protect the nomads' ancient lifestyle by helping them to make more successful economic decisions in times of drought. Community members will be trained to supervise teaching – receiving a tablet and sonar panels which they can use to bring the eBooks to the inhabitants of isolated settlements. Members of the local women's collective in Loiyangalani will be supported through the erection of a satellite internet kiosk, which will provide them with a valuable alternative source of income.
At least 300 members of the nomadic and seminomadic community in Loiyangalani and Hurri Hills will have the opportunity to become literate and numerate through the use of eBooks and tablets, while at the same time receiving training in basic business strategy. At the end of their training, they will be able to take tests in:

Basic reading, writing, and numeracy
Market principles, and effective economic decision-making in times of drought
Animal health
Drought resistance
A module on conflict management, which is currently under development.
A seven-day training course for twelve teachers in using the tablet computers, solar panels and eBooks in Manyatta, Loiyangalani, and Hurri Hills
Delivery of twelve iPads with batteries, solar panels, and protective cases to the teachers
Installation of satellite internet with solar panels and generator in Loiyangalani, and construction of an internet and consumer goods kiosk as an additional source of income for the local women's group
Training of the women's group in servicing the satellite internet connection
Capacity building workshop
Training for the members of the women's group to allow them to manage the online testing program
Use of trained members of the women's group as teachers in neighboring villages
Country info
Capital: Nairobi
Area: 582,650 km²
Population: c. 45.5 Million
Project data
Project duration: since July 2016
Donor: German Federal Ministry for Economic Cooperation and Development
Partners: up4change, PACIDA
Last updated: September 2016