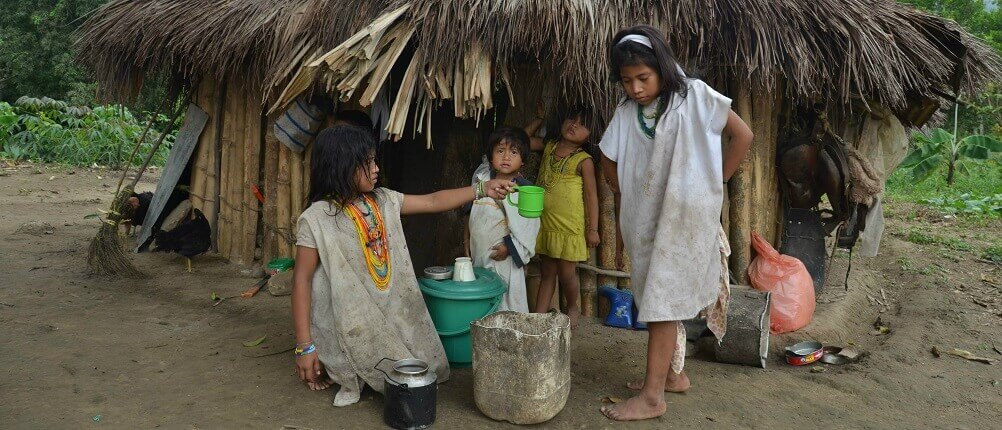 Health, hygiene and nutrition
With a global poverty index of 66.88% and extreme poverty going up to 94.54% in remote rural areas, La Guajira is one of Colombia's most vulnerable departments with predominantly indigenous population (Wiwas, Wayu), Afro-Colombians and internally displaced people (IDPs). Given the high rates of infant mortality and acute malnutrition it is crucial to strengthen self-help capacities and local leadership for preventive health and hygiene measures, which can help prevent main causes of child mortality. Malteser International started activities in July 2015 together with the Colombian Association of the Sovereign Order of Malta, to improve preventive health and hygiene, and support public health and nutrition campaigns. We will reach thousands of people, including 5,000 children, pregnant women and lactating women suffering from acute malnutrition through the establishment of a nutrition program.
In the remote and marginalized Department of La Guajira in Northern Colombia, 85% of the rural population lacks access to basic services. La Guajira has a global poverty index of 66.88%. In rural areas, extreme poverty reaches 94.54%, the global malnutrition rate stands at up to 58.5%. Infant mortality is 45 per 1000 live births, and acute malnutrition for children under 5 is 11.2%. Access to primary health care is limited, especially in rural areas, and 60% of the existing health centers lack adequate infrastructure and equipment. Proper health and hygiene behavior, as well as improved nutrition, can help prevent the main causes of child mortality. There remains, however, a lack of community knowledge, and a lack of coordination between relevant actors. The project seeks to improve the community's knowledge through health and hygiene promotion, and link the relevant actors to address preventive basic health care issues more efficiently. Nutrition and environmental concerns are a cross-cutting issue, as the target area comprises a part of the natural reserve Sierra Nevada de Santa Marta, which will be positively affected by improved hygiene behavior such as reducing solid waste or avoiding contamination of water resources through open defecation near river streams, as 67% of the population lacks access to proper sanitation.

The project is a pilot. As such, we plan to expand it to similarly marginalized areas in the department of La Guajira. The initial target area focuses on the particularly vulnerable and marginalized municipalities of Riohacha (pop. 137,224) and Hatonuevo (pop. 17,014) which have a combined population of 154,238. Vulnerable sub-groups include indigenous groups (Wiwas, Wayuu), Afro-Colombians, internally displaced people (IDPs) and households with a female head. The pilot will focus on 10 indigenous communities, meaning that thousands of people will be exposed to a public health campaign, including 5,000 children, pregnant women and lactating women suffering from acute malnutrition.
To strengthen community-based capacities for reducing malnutrition and morbidity by promoting preventive health and hygiene measures, as well as conducting nutrition campaigns for marginalized communities in La Guajira.


Training 10 community health agents for community mobilization in preventive health and hygiene
Forming a community network for epidemiological monitoring and surveillance of vector based diseases, such as chikungunya, dengue and chagas, by health agents
Supporting a public health and nutrition campaign for preventive health and hygiene promotion which integrates into the Social Health program of the Order of Malta in Colombia.
Establishment a system for the distribution and monitoring of nutrition for especially vulnerable groups such as children, pregnant and lactating women.
Country info
Capital: Bogota
Area: 1,138 km²
Population: 47.9 Million
Project data
Project duration: since June 2015
Donors: Global Fund for Forgotten People, private donations
Partner: Colombian Association of the Order of Malta
Last updated: January 2016