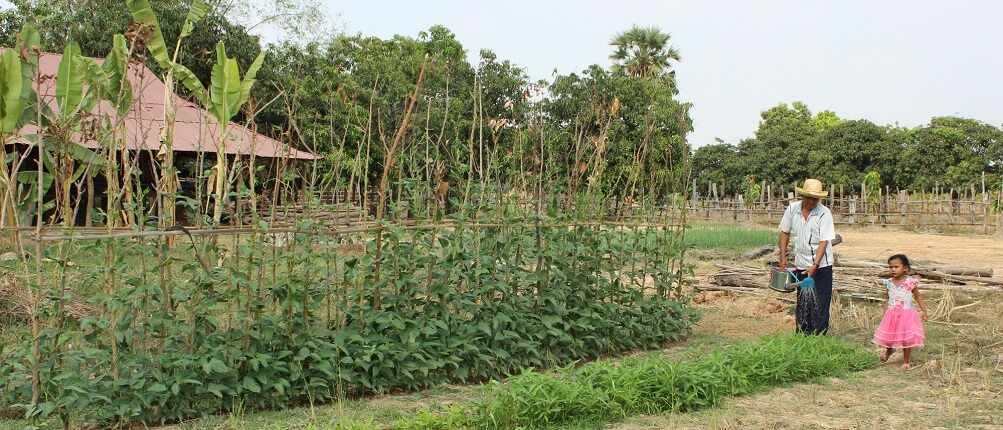 Building climate change resilience
In recent years, the province of Siem Reap has increasingly felt the effects of climate change: suffering from heavy flooding in 2011 and 2013, and increasingly frequent lengthy periods of drought. These changes affect the most vulnerable members of the population the hardest because of their limited ability to cope. Strengthening the resilience of local communities and medical infrastructure is essential in order to protect these vulnerable communities from the direct and indirect effects of climate change.
Climate Change has direct and indirect impact on human health. Its direct impacts includes disastrous extreme weather events: such as floods and droughts, however it also indirectly promotes the spread of disease. The negative effects of climate change are set to have a disproportionately severe impact on the most vulnerable groups in society, who are endangered by their high level of exposure and relatively limited coping capacities.
Cambodia ranks at eighth place in the Climate Change Vulnerability Index 2014 and the World Risk Index 2013. The temperature increase is likely to affect agricultural productivity by causing a decline in rice yield by 10% for each 1° Celsius increase in the temperature. Projections of the mean annual rainfall indicate an increase in rainfall in Cambodia, while other observed changes include increasingly frequent, prolonged and severe flooding, droughts and wind storms in recent decades.
As well as the negative effect on health caused by damage to livelihood, and a decrease in living standards, the health effects of climate change are aggravated by Cambodia's underdeveloped WASH infrastructure, especially in rural communities. Increased rainfall and precipitation creates favorable conditions for mosquito breeding and the transmission of vector borne pathogens: already leading to more frequent cases of dengue fever, diarrhea, and intestinal nematode infections.
Increased awareness, knowledge and skillsregarding vulnerability to climate change, and its impact on health.

Improved coordination, dialogue and exchange between health providers and local stakeholders.

Improved WASH situation and coping mechanisms.
Vulnerability Assessment

Capacity development through training of Provincial Health Department staff, Health Centre staff and village-level health staff.

Facilitation of meetings between stakeholders at different levels, and lobbying on the topic of climate change and health.

Scaling up of WASH infrastructure (rainwater collection tanks, water treatment and sanitation facilities, improvement of water sources).

Training of established community groups in hygiene promotion and risk reduction activities.

Climate proofing of two pilot Health Centers.
Country info
Capital: Phnom Penh
Area: 181,040 km²
Population: 15.67 Million
Project data
Project Duration: since November 2014
Donors: Deutsche Gesellschaft für Internationale Zusammenarbeit (GIZ)
Partners: National and Provincial authorities , Commune Councils, Communities, private donations

Last updated: July 2016