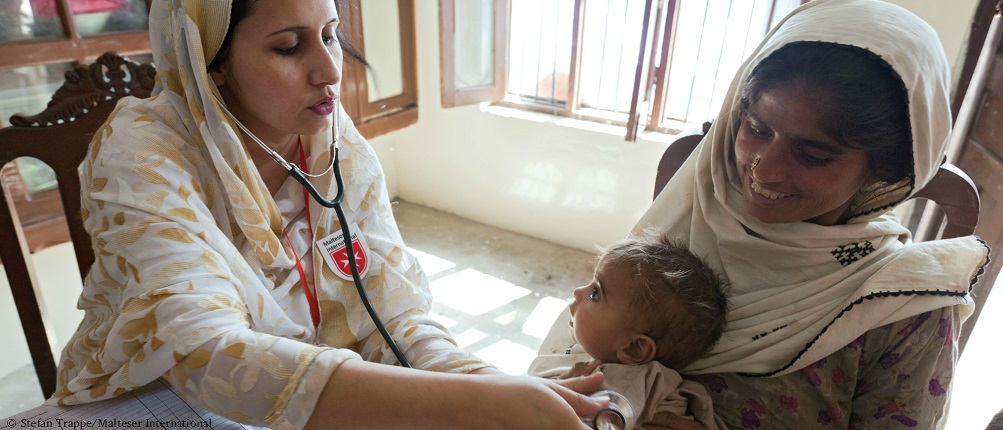 Medical care for refugees
As of December 2014, ongoing internal conflict between the government and militant groups had forced 1.6 Million Pakistanis to flee from their homes and become refugees in their own country. Since 2002, floods of internally displaced people, together with refugees from Pakistan have sought refuge in camps or with other families who themselves ran from previous conflicts. The quality of life enjoyed by these people is extraordinarily poor. Their medical situation is often highly precarious as it is, and Pakistan's health system was in a parlous state before it was forced to deal with the extra work created by population displacement. Malteser International has been working in the north west of the country since 2013 in partnership with the Afghan Woman's Union in order to provide improved access to medical care for Afghan refugees, as well as internally displaced Pakistanis.
The Federally Administered Tribal Areas (FATA) on Pakistan's North West frontier is a semiautonomous region riven by political, religious and ethnic conflict. Loss of life is commonplace, security is a rarity, and quality of life is a dwindling commodity. This instability has created a flow of refugees from the FATA to the far north of the country. These refugees are suffering from widespread stress, trauma, and hopelessness, as well as an acute lack of medical care. The situation is made more difficult by regular flooding during the monsoon, which can overwhelm the region's basic infrastructure for months at a time.
Improvement of healthcare provision for internally displaced people, Afghan refugees and their host communities in three Union Councils in the Peshawar District, with particular attention to the needs of women and children by:

Improving access to and quality of basic medical services.
Improving nutrition for children and women of childbearing age.
Improving inclusive disaster risk reduction measures at the supported medical facilities.
Improving the equipment of the supported medical centres, and provision of additional medication in the case of shortages.
Education and training of medical personnel and volunteer health committes.
Provision of safe medical help for childbirth and emergencies outside of the official basic health unit operating hours.
Monitoring of the nutritional situation of pregnant and breastfeeding women and children in the target areas of the medical centers.
Strengthening of the referral system for undernourished women and children.
Health and hygiene education events.
Further training in inclusive disaster risk reduction for local health officials, medical personnel and volunteers.
Creation and revision of disaster plans.
Training of Rapid Needs Assessment & Response Teams.
Country info
Capital: Islamabad
Area: 796,095 km²
Population: c. 182.1 Million
Project data
Project duration: since November 2014
Donors: German Federal Foreign Office, private donations
Partner: Afghan Woman's Union

Last updated: July 2016