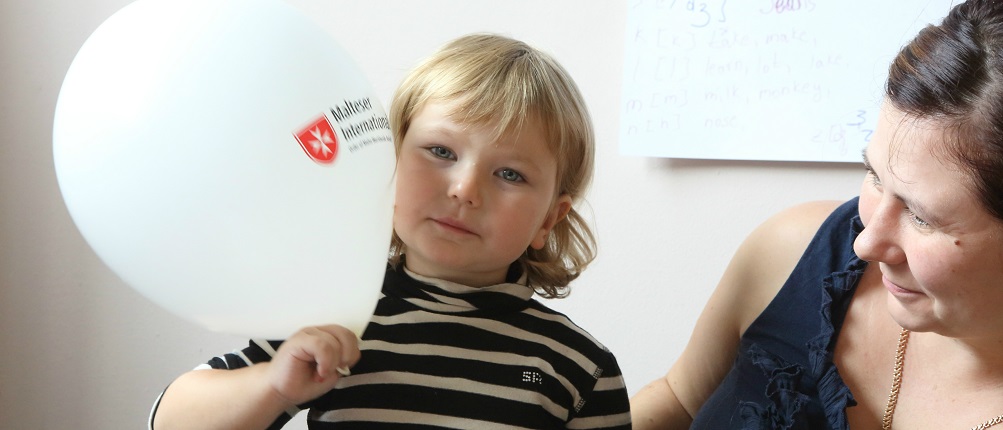 Psychosocial help for internally displaced people
Malteser International is providing psychosocial help for internally displaced people in the regions of Kiev, Luhansk and Donetsk in cooperation with the Ukrainian Order of Malta. Many of those affected have been forced to flee their homes because of the conflict between government and opposition forces in the east of the country. A particular emphasis is on providing help to children and their families - in order to bring them some degree of stability.
A total of 1.6 million people in the Ukraine have been displaced by conflict between the new government and separatist forces in the east of the country. Many are suffering from severe trauma, have lost loved ones, and despite the ceasefire, they are afraid of further violence. The level of trauma amongst some displaced people makes reorientation themselves and finding some stability in their place of refuge not only difficult, but impossible without help. There is a high level of solidarity, but tensions between displaced people and their host communities are high in some places, making the situation worse.
In the years from 2015 to 2017, the regions of Lugansk and Donetsk as well as Kiev were the center of our activities. Since the beginning of 2018, project activities have shifted to the 'grey zone' or line of contact between Russian and Ukrainian troops.
Psychosocial stabilisation of around 15,000 people affected by the conflict in Ukraine.
Strengthening of local structures and personnel (officials, volunteers, specialists) in order to deal with the task of providing support to the affected people.


Target groups:
Around 6,000 displaced people will be reached by the distribution of information and education material as well as psychosocial support in community centers
More than 5,800 people to take part in psychosocial courses in community centers
Around 2,800 to be reached using mobile clinics
About 1,000 serious cases will be referred to the trauma center in Kiev
Circa 800 social workers, psychologists and members of related professions, and volunteers in the field of care for displaced people (training and supervision). A larger group of specialist personnel will be reached via informational and educational material, and through the application of the 'multiplier effect'
Circa 290 representatives of the responsible local authorities (round table discussions, awareness training and education on the consequences of trauma etc.)
Supervision and mentoring arrangements for around 200 skilled workers and volunteers
Direct Support for Displaced People and their Host Communities:


Creation and distribution of basic information and education material.
Psychosocial support in the form of individual and group meetings or activities in community centers
Transfer of special cases of need to the trauma center in Kiev based on the assessment of psychological factors.
Stabilizing and developing local structures:
Round table meetings with representatives of local authorities, civil society and specialist personnel.
Short training sessions for representatives of local authorities on the psychological consequences of conflict and displacement, the needs of displaced people, and aid models.
Systematic development of training programs for specialist psychosocial personnel and volunteers at the project locations.
Production and distribution of information, training and professional literature for local officials and specialists
Supervision and mentoring arrangements for around 200 skilled workers and volunteers
Country info
Capital: Kiev
Area: 603,628 km²
Popuation: c. 45.5 Million
Project data
Project duration: since May 2015
Donors: German Federal Foreign Office, private donors
Partners: Malteser Ukraine, Psychological Crisis Service - Kiev, Organisation for Overcoming the Consequences of Traumatic Experiences; Word Help (former National University "Kyiv-Mohyla Academy")

Last updated: February 2018