About Us

Drought in Africa
Current situation: Millions are facing starvation in Africa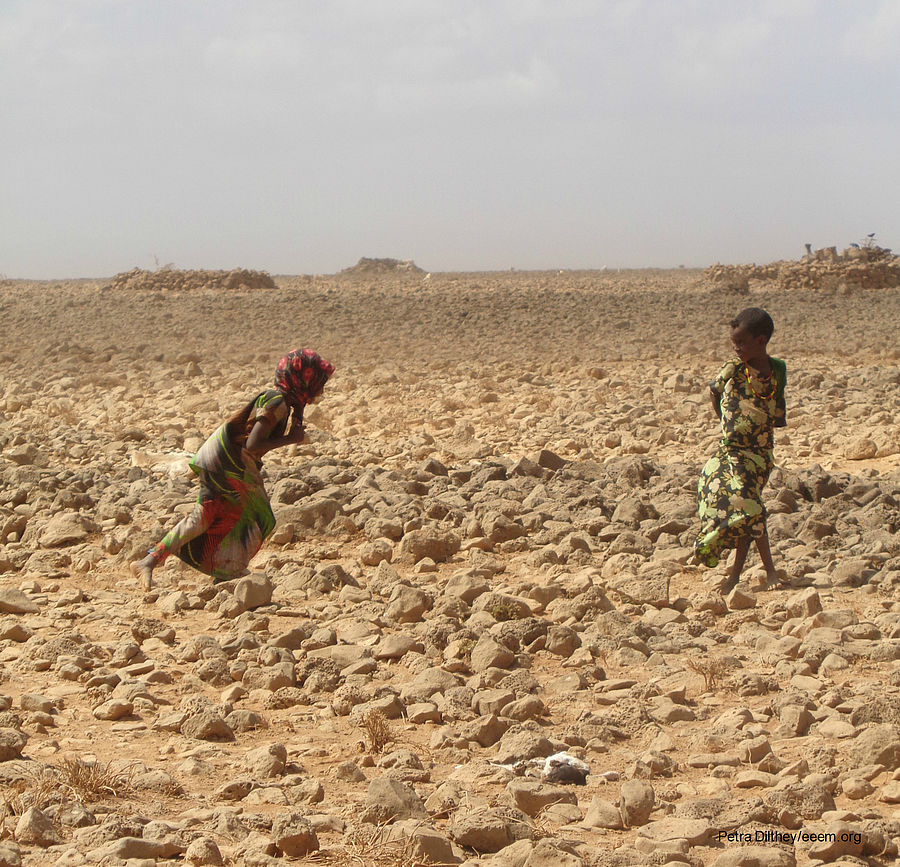 The United Nations has reported that starvation threatens more than a million children in Somalia, Nigeria, Yemen, and South Sudan. Conditions in other African countries are also worsening – with growing hunger caused by months of drought leaving children amongst the most badly affected.
Additional factors contributing to the wave of hunger in Africa include the ongoing civil war in South Sudan, which has caused explosive inflation. In this country alone, around 100,000 lives are threatened by hunger, while five million people are in urgent need of food supplies (status as of March 2017). A growing number of South Sudanese people are fleeing the country to seek refuge in the neighboring countries, especially in Uganda. Additionally, the most desperate refugees are fleeing from conflict towards the Democratic Republic of Congo, a country which is in itself often in need of humanitarian aid.
Conditions for people in Northern Kenya also continue to worsen. No rain has fallen in parts of the country for months. In this region alone, around 2.7 million people are living in the grip of a punishing drought. The situation in Marsabit is especially dire, and more than half of the county's children are undernourished. People in the area depend almost exclusively on cattle husbandry, and eighty percent of their livestock is already dead – leaving them with no means to buy food or to feed themselves from their animals.
This is how we help the people in the crisis-ridden regions of Africa:
South Sudan:
• School meal program for 5,000 children
• Drilling of 18 wells
• Construction of six washing platforms
• Distribution of soap bars to 19,000 refugees
• Psychosocial support for children aged five and above
• Distribution of agricultural equipment and water
• Supervision of street children
• Supporting the urban vegetable garden in Wau city
Our help in the DR Congo for South Sudanese refugees:
• Supporting health centers and hospitals in treating refugees free of charge
• Improving the water supply in the camps and health centers
• Providing the necessary equipment for water treatment
• Providing refugees with hygiene articles
• Providing hygiene awareness in courses instructed by health committees in order to prevent the transmission of diseases
• Construction of sanitary facilities, such as showers, latrines and incinerators
• Providing health centers with equipment for infection prevention and for work safety
Kenya:
• Water supply
• Construction of a water catchment system
• Drilling of boreholes
• Construction of latrines and distribution of hygiene articles
• High energy food for undernourished children
• Supporting the food distribution for households
Our help in Uganda for South Sudanese refugees:
• Motorizing boreholes to supply refugees with water
• Supplying refugees with essential hygiene articles and soap
• Distributing seeds and agricultural equipment
• Trainings on good agricultural practices
• Setting up fruit and vegetable gardens
Learn more about our work in the fight against hunger in Africa:
Tense situation in Kenya and South Sudan