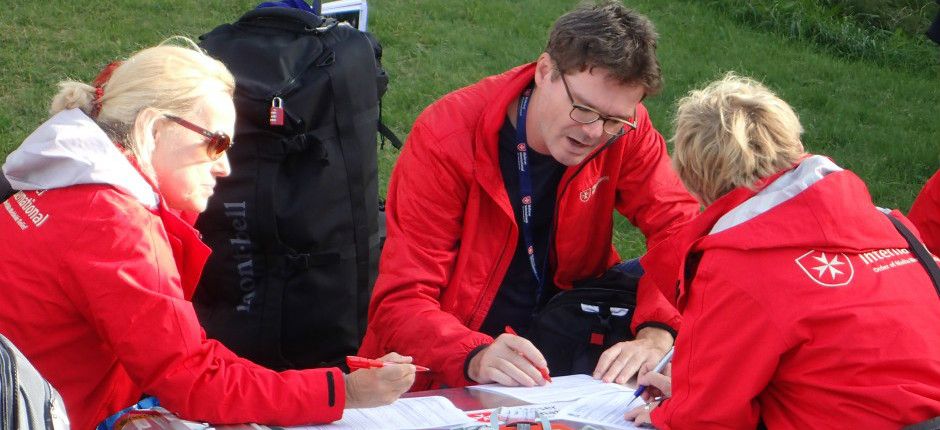 About Us

Emergency Medical Team (EMT)
Emergency Medical Team (EMT)
In November 2018, Malteser International became certified as "Emergency Medical Team (EMT) 1" by the World Health Organisation (WHO).
The World Health Organization (WHO) launched the WHO EMT initiative in 2016 to improve the timeliness and effectiveness of health services provided in the immediate aftermath of a sudden-onset emergency or outbreak.
Following the launch of the EMTs, Malteser International commenced plans to set-up its own emergency medical team, with the objective of saving lives and minimizing health risks during disasters.

Background: Lessons learnt from the 2014 Ebola epidemic
In 2014, the World Health Organization (WHO) officially announced the outbreak of the Ebola virus in Guinea. Within a short period of time, the deadly virus had spread to other West African countries including Liberia, Sierra Leone, Senegal, and Nigeria. An end to the epidemic was not declared until January 2016. Similar to the outbreak of Cholera after the devastating 2010 earthquake in Haiti, the Ebola epidemic presented the global community with a major challenge in terms of medical aid delivery and logistics. Both disasters clearly showed that alongside the good will to provide assistance during emergencies, professional standards in the provision of aid are also necessary.
The EMTs are divided into three distinct categories, Type 1, 2 and 3, depending on their capacity and capability, as well as any additional specialist services they can provide. EMTs play a critical role in national, regional and global response capacities. As national health systems increasingly adopt the EMT minimum standards and principles, and as the number of internationally classified teams gradually grows, governments can be assured of a predictable and timely response by self-sufficient teams with highly trained health personnel. As of the end of 2016, only six national EMTs, mostly from Russian and Chinese civil defense organizations, were registered.
Malteser International "EMT fixed 1"
The Malteser International EMT is a "Type 1 Fixed Emergency Medical Team" and is able to provide outpatient emergency care in accordance with the requirements for "Classification and minimum standards for International Medical Teams (IMT) in sudden onset disasters" developed by a working group under the auspices of the Global Health Cluster and the WHO.
The EMT is drawn from a specialist medical team within Malteser International´s Pool of Experts. Members of the medical team are mainly health professionals (doctors, nurses, paramedics etc.) with proven experience in humanitarian crises (emergency and trauma care, control of communicable diseases) and are familiar with Malteser International's operational procedures in emergencies. Support is given through logistics and WASH experts who help to ensure the self-sufficiency of the team. In accordance to WHO requirements, the Malteser International EMT provides immediate basic outpatient clinical services focused on basic trauma care, communicable and non-communicable disease control, mental health, and preventive care for at least 100-150 patients per day.