Haiti, the poorest country in the Western Hemisphere, shares the island of Hispaniola with the Dominican Republic, its eastern neighbor. The Haitian economy is largely characterized by subsistence farming, and Haitians are heavily dependent on the natural resources of their nation. Only two percent of the country's total area, however, consists of forested areas, while logging, and soil erosion caused by overuse has placed increasing pressure on the nation's resources.
This situation has had drastic consequences for the food security of the population, while climate change has made the country more vulnerable to natural disasters such as drought and hurricanes. Meanwhile, the people of Haiti still live with the consequences of the devastating earthquake in 2010, and the following cholera epidemic, from which they have even now only partially recovered. Despite many advances in the rebuilding process, Haiti is still in need of international aid in order to get back on its feet in the long term.
Malteser International has been working in Haiti since the earthquake in 2010. Following initial emergency relief and support with rebuilding efforts, our programs have concentrated on building up the structural capacity of civil society in the areas of WASH (Water, Sanitation and Hygiene), disaster preparedness, and food security. We work closely with local partners in the urban slum areas of Cité Soleil and Tabarre, as well as the rural region of Belle Anse.
Haiti: Relief efforts step up following hurricane
Haiti: Malteser International prepares emergency relief after Hurricane Matthew
Dominican Republic: Hundreds of thousands of Haitians threatened with expulsion
Belle Anse, Haiti: from drought to flourishing fields
World Water Day 2015: Building latrines for the school children of Tabarre (Haiti)
Five years after quake, Haiti still needs help
View all news
Become a sponsoring partner and provide longlasting aid for people in need
As a sponsoring partner, your regular donation gives real, life-changing help to people in need in our project regions. Your commitment helps us plan ahead and bring about long-lasting impact.
We put your generous donation to use, bringing help to those who need it most.
Our monthly newsletter will keep you regularly updated on our work.
You can easily amend or stop your payment at any time.
You will receive a tax donation receipt.
Contact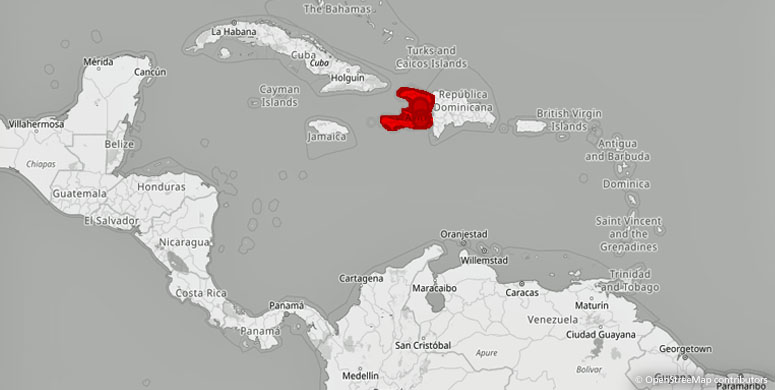 Malteser International Location: Port au Prince and Belle Anse