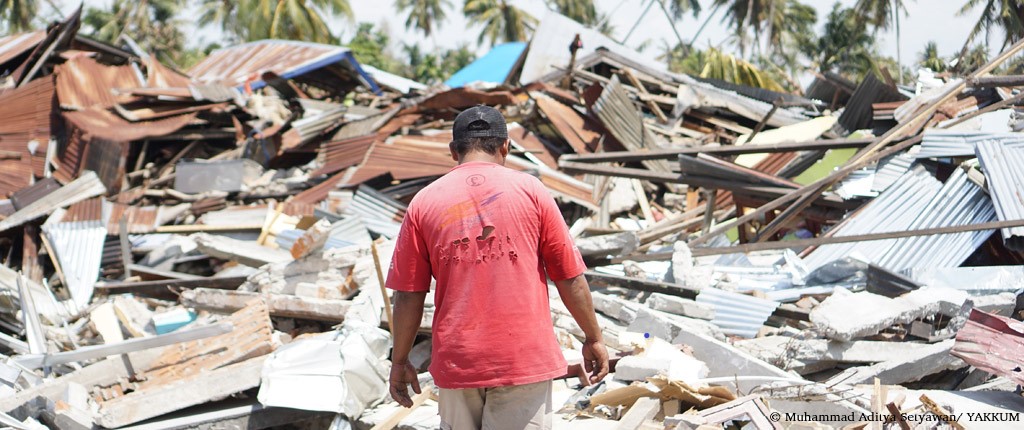 2018 was Indonesia's deadliest year for natural disasters since the Indian Ocean Tsunami in 2004. According to official figures, nearly 5000 people died from natural disasters in 2018. In September, a powerful earthquake measuring 7.5 on the Richter scale triggered a tsunami off the coast of the country's island of Sulawesi, killing more than 2000 people. A second disaster occured a few months later on the evening of December 22 when underwater volcanic activity caused a tsunami that struck the coastline of the Sunda Strait. More than 400 people were reported dead.
Indonesia lies along the so-called Pacific 'Ring of Fire', a volatile seismic area with a high degree of tectonic activity. This location makes the country particularly prone to natural disasters, including earthquakes, tsunamis, and volcanic eruptions. Apart from the loss of lives and property, these disasters cause population displacement and result in economic costs for the country.
How we are helping
The country has coped with the challenges of these natural disasters, however the capacity to deal with large natural disasters is often limited. Malteser International is supporting partner organizations in the country in their response efforts. In the aftermath of the earthquake and tsunami in September, Malteser International worked with YAKKUM Emergency Unit (YEI) to repair and restore damaged health centers in Sulawesi, while providing clean water and medical supplies for affected populations.

Malteser International is also supporting its Indonesian partner Pusat Kajian dan Perlindungan Anak - (PKPA) in providing relief for those affected after the Sunda Strait tsunami. Together, we are distribuiting urgently needed supplies such as mattresses, tarpaulins, blankets, hygiene kits and water canisters.
Our assessment mission in Indonesia
Contact
Country info
Capital: Jakarta
Area: 2.02 Mio. km²
Population: ca. 262 million