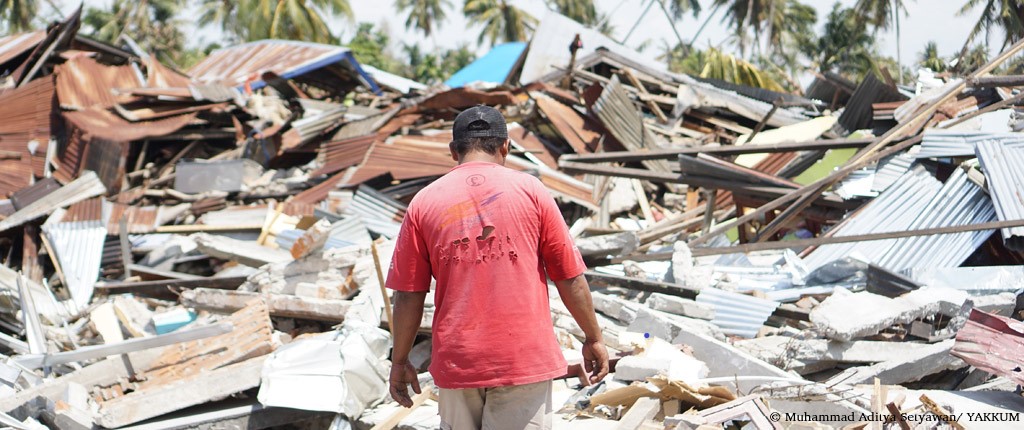 On Friday, September 28, 2018, a powerful earthquake measuring 7.5 on the Richter scale triggered a tsunami off the coast of the Indonesian island of Sulawesi. The official death toll is at over 2,000, with thousands more wounded. According to the Indonesian government, nearly 80,000 homes were destroyed or severely damaged. The disaster affected some 2.5 million people in the region. However, the full extent of the destruction remains to be seen. The extensive destruction means that access to affected areas is difficult. Power lines have been knocked out, bridges and roads damaged, and many people are reported to be trapped underneath collapsed buildings.
Following the disaster, a Malteser International assessment team was dispatched to the disaster-hit region to discuss plans for emergency aid measures with national authorities and a network of local humanitarian organizations in Indonesia. Malteser International is now supporting its Indonesian partner, YAKKUM with the repair and rehabilitation of damaged health centers in Sulawesi. This aid inculdes the provision of medical supplies for the injured. Malteser International also set apart an emergency fund for the distribution of essential relief materials for thousands of people who have been affected.
Malteser International has a long history providing emergency relief in the aftermath of natural disasters in Indonesia. In the aftermath of the 2004 tsunami, we worked with YAKKUM to provide aid materials to families in need. Working with and supporting local partners in emergencies allows us to draw on their much wider range of experience, knowledge and networks. This concerted effort ensures that our aid arrives where it is needed the most.
How we are helping
Repair and rehabilitation of damaged or destroyed medical facilities in Sulawesi
Support for the provision of clean water and medical supplies
Distribution of relief materials to affected populations
Our assessment mission in Indonesia
Sulawesi: Emergency relief for the people affected by the tsunami
Contact
Country info
Capital: Jakarta
Area: 2,02 Mio. km²
Population: ca. 262 Mio.