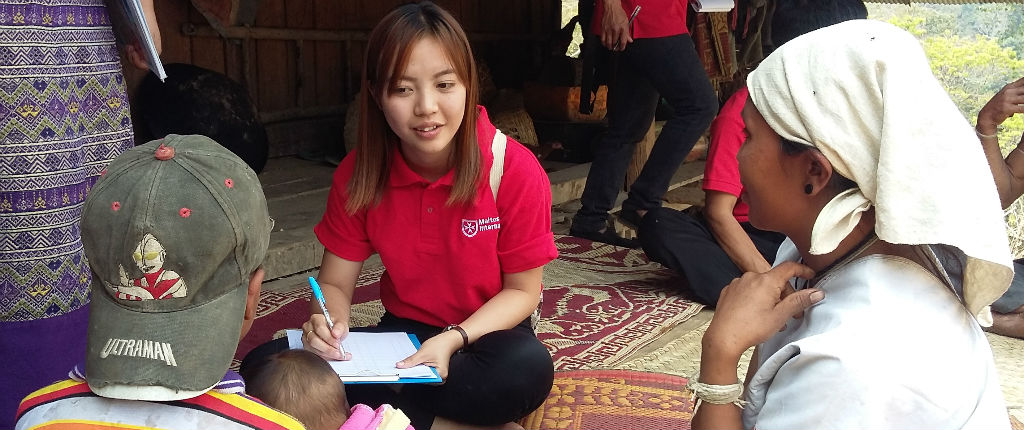 Improving health and nutrition for mothers and children in rural areas
Limited access to basic health services, and poor food and nutrition security remain major problems for the majority of the population of Myanmar. Women, in particular pregnant and breastfeeding mothers, as well as newborns, infants and children are particularly affected by these problems, and also suffer from one of the highest levels of chronic malnutrition and undernourishment in the world. The country's under five mortality rate and infant mortality rate is one of the highest in Asia. Most of those deaths occur in rural areas like Shan State, where Malteser International has been working since 2003, and are due to preventable causes.

Most neonatal and maternal deaths are directly related to the lack of health care services. About 88% of deliveries take place at home – many without the assistance of skilled birth attendants – exposing mother and child to serious risks.

Improving the quality and coverage of maternal, neonatal and child health services, and increasing the quality and security of nutrition in rural areas is essential to reducing maternal and neonatal mortality. To do this, Malteser International follows a comprehensive approach – working with and supporting government health staff like midwives, while promoting good health, nutrition, sanitation and hygiene within the communities at the same time.

The assistance of skilled birth attendants and the availability of medical facilities are crucial requirements for reducing neonatal mortality. Training Health Volunteers, establishing Mother Support Groups, and constructing additional health centres – to increase access to medical facilities in rural areas are an important contribution to this goal.
More than one third of children under five in Myanmar are stunted, and 7.9% are acutely malnourished. Up to 40% of infants in rural areas do not have enough healthy food to eat. Over 80% of children 6-23 months old and close to three-quarters of pregnant women suffer from anaemia and nutrient deficiencies, which contribute to child and mother mortality.

The majority of infant, under five, and maternal deaths are due to preventable causes, and can be avoided through cost-effective interventions such as the presence of skilled birth attendants during deliveries, and establishing access to basic services like vaccination, antenatal and postnatal care, and a functioning referral system. However, healthcare coverage in rural areas remains extremely low. Midwives are overstretched, and often have to cover far more villages than the government assigns them. They also lack the basic facilities and equipment to receive and treat patients: forcing them to deliver babies in unhygienic conditions.
Increase geographic access to health facilities
Promote safe delivery to reduce risks of mother and child mortality
Support health staff and volunteers, to make health services more accessible to women and children from remote villages
Improve knowledge and attitudes of mothers and their children in regards to nutrition, health, and personal hygiene, and encourage positive behavioural change
Increase access to regular immunization services for children in remote villages
Increase access to basic health services like, post and antenatal care for pregnant women
Support self-help initiatives by establishing active Mother Support Groups and setting up a plan for emergency referrals
Construction of eight health facilities including staff accommodation
Equipment of eight health facilities, installation of solar power systems and refrigerated storage for vaccines and medication
Supporting midwives to undertake immunization programs, health education and growth-monitoring campaigns for children
Promotion of safe delivery attended by skilled birth attendants
Encouragement of better practices in food security and nutrition through health Education, 'nutrition days', home gardening promotion sessions and agricultural demo plots
Provision of 500 education sessions on mother, neonatal and child health, hygiene and sanitation, and nutrition, to increase knowledge and awareness, and promote behavioural change
Support government training of 40 Auxiliary Midwives to aid Basic Health Staff in remote villages
Establishment of 20 community based mother support groups and provision of volunteer training
Establishment of a referral system and incentives to encourage safe delivery at health facilities with skilled birth attendants
Country info
Capital: Naypyidaw
Area: 676,578 km²
Population: c. 51.5 Million
Project data
Project duration: since November 2015
Donor: Gesselschaft für International Zusammenarbeit (GIZ)

Last updated: July 2016