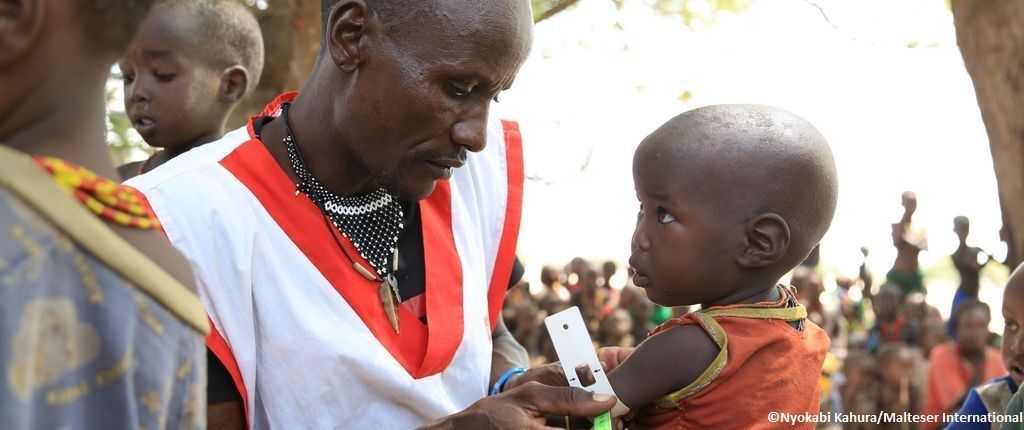 Drought relief in Kenya
In February, the Kenyan government declared the ongoing severe drought a national disaster. After long periods of sporadic rains, especially in the north of the country, some 2.7 million people have had their food supply cut short and now face starvation, making them heavily dependent on food aid. The biting drought is also affecting thousands of animals. The livelihoods of the semi-nomads living in the north of Kenya are also threated because they depend on livstock for food and income. The food shortage which has arised as a result of the drought disaster particularly affects children in the region. More than half of all children under the age of 5 are undernourished. Malnutrition has an impact on the development of children, on their ability to learn and thus on the development of Kenya.
Illeret is a district in Marsabit, an arid county in northern Kenya, which has seen very low rainfall in the past 18 months. Water tanks have become empty, grasses have hardly grown here. With livestock dying, milk production is low, and productivity has declined.
Sheep and goats serve as primary livelihood and food source for most people in Illeret. Due to devasted grazing pastures, these animals have lost their value and are increasingly becoming liabilities to their owners, making it impossible to sell them off.
The project aims to secure food supply for families in need, reduce livestock and conserve grazing land.
Supply of safe drinking water
Provision of supplementary food materials to the health station in Illeret for children under 5 years of age
Additional food vouchers for households with undernourished children
Reducing livestock by culling
Slaughtered animals are paid for by food vouchers
Meat is distributed to families in need
Country info
Capital: Nairobi
Area: 582,650 km²
Population: approx. 45.5 million
Project data
Project duration: 01 November 2016 - 31 December 2017
Financing: German Relief Coalition (Aktion Deutschland HIlft - ADH), Futur 21, The Senate of Economy, private donations
Last Updated: May 2017