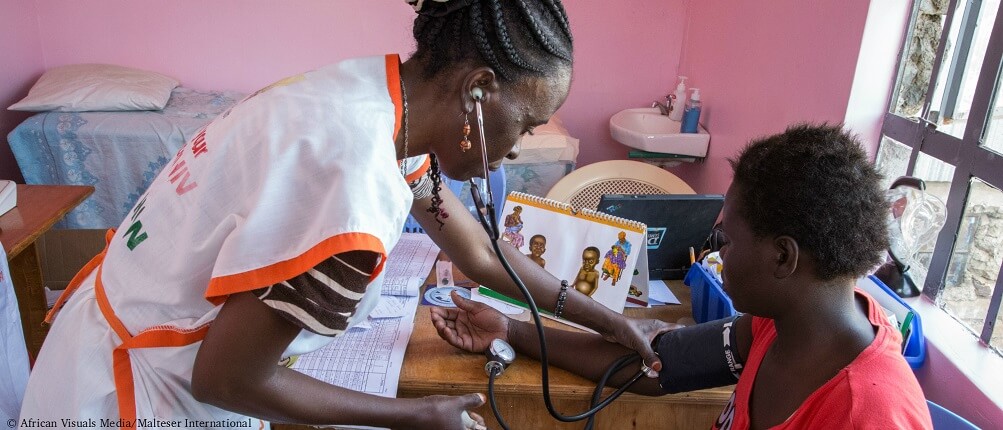 Fighting AIDS and tuberculosis in the slums of Nairobi
An estimated 2.7 million of the 43 million people living in Kenya are currently infected with HIV. Around 500 people die each day as a consequence of the disease. Nairobi has a population of 3.1 million, about two million of whom are squeezed into the overcrowded slums that make up just five percent of the city's area. Around ten percent of the adult population of these slums are HIV positive – making them one Kenya's most HIV affected areas.

Poor living conditions, extreme poverty as well as a lack of education are main reasons for the spread of HIV/AIDS in the slums of Kenyan capital. Because of the vulnerability caused by HIV, many of those who are infected also suffer from tuberculosis (TB). In the confined and unhygienic conditions found in the slums, diseases such as TB spread quickly. A major problem is also the transmission of HIV from mothers to their unborn children. According to current estimates in Kenya, 50,000-60,000 babies are infected with HIV while in utero each year.
Malteser International has been fighting against AIDS and TB in a slum of Nairobi with around 800,000 inhabitants since 2001: by providing training to medical staff and education the population, as well as setting up laboratories allowing the diagnosis of infections. Trained local staff are indispensable in the effective treatment of AIDS: providing intensive care for the patients, along with regular blood and organ diagnostics.

Trained volunteers – the so-called Community Health Workers – are another decisive factor in the success of the project. They act as mediators between medical structures and the population, and bring health care closer to the people. Since 2012, a special emphasis has been placed on the prevention of transmission of HIV from pregnant women to their children.

TB is curable with the use of a combination of three to five antibiotics. The treatment takes between six to eight months. The continuous medical care of the patients during treatment is of the utmost importance: if a patient stops treatment prematurely, incurable resistances may develop.

HIV/AIDS cannot be cured, but with so-called antiretroviral drugs, it can be suppressed, allowing the patient to lead a relatively normal life. Transmission of HIV from a mother to her baby can also be prevented in most cases with proper prenatal and postnatal treatment.
On-site examination, diagnosis and treatment of HIV and TB patients.
Support of patients through personal care, advice and nursing tips for relatives.
Increase in HIV and TB testing to allow timely treatment.
Treatment of HIV-affected persons with modern, life-prolonging AIDS medicines (antiretroviral therapy).
Focused treatment of HIV-infected pregnant women to prevent transmission of the virus to their unborn babies.
Establishment of eight laboratories and VCT (Voluntary Counselling and Testing) Rooms in the Nairobi slums. These laboratories enable the on-site examination of patients.
Treatment and sustainable medical care for TB patients following the Directly Observed Treatment Short Course (DOTS) strategy to avoid defaulters.
Antiretroviral treatment for HIV / AIDS-infected patients.
Employment of additional nurses in existing health centers.
Linking health facilities with the Ministry of Health to allow quality control, and ensure the supply of certain drugs and medical consumables free-of-charge.
Training for the staff in the health centers to ensure high quality health care.
Training of slum residents as health care helpers: thanks to these lay helpers, the number of people in the slums willing to be tested for HIV and tuberculosis is on the rise.
Educational measures to fight the stigma of HIV / AIDS.
Creation of support groups for HIV-positive mothers.
Country info
Capital: Nairobi
Area: 582,650 km²
Population: c. 45.5 Million
Project data
Project duration: since 2001 (January 2018 - June 2021)
Donors: The Global Fund
Partners: Kenyan Ministry of Health, City of Nairobi, Amref Health Africa, Health Centres in Urban Informal Settlements

Last updated: January 2016