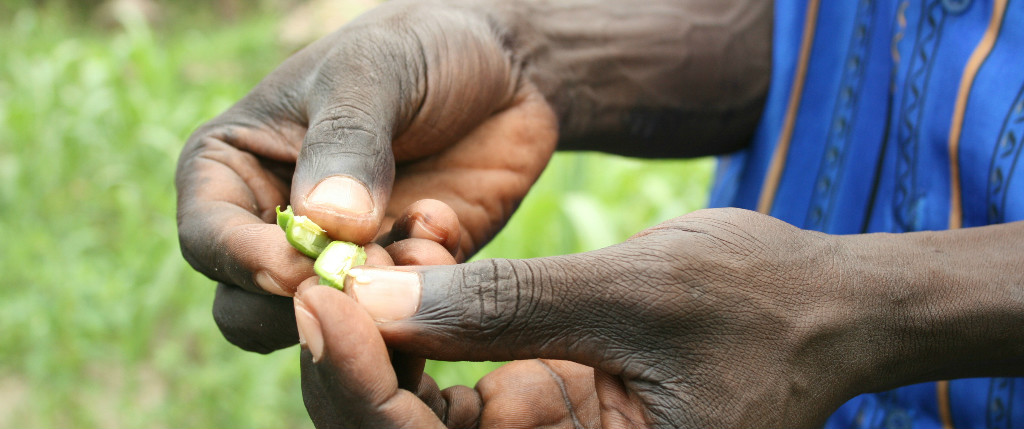 Sustainable agriculture for a healthy diet
Sustainable agriculture for a healthy diet
Malteser International is working with its local partners Rural Action Against Hunger (RAAH) and the New Sudan Woman Federation Maridi (NSWF) to improve nutritionally-sensitive agriculture in the communities of Maridi Central, Mambe and Ngamunde in the South Sudanese State of Western Equitoria. Working in the framework of a special initiative against hunger organized by the German Federal Ministry for Economic Cooperation and Development, we are also seeking to improve the livelihood of the population in the County of Maridi. The project was started in September 2015, and, should contribute to a better realization of the region's agricultural potential during its four-year run. To do this, we will provide targeted support to 1,000 households in especial need – particularly to those where women are sole providers for their families, because their husbands lost their lives during the civil war.

We distribute tools and seeds, train the population in modem, but locally-adapted farming methods, and are seeking to revive veterinary medicine in the area. We also supply schools with teaching materials, as well as school gardens with seeds, plants and tools, to allow agricultural education to be included in the curriculum once again.
Despite the comprehensive peace agreement in 2005, and the independence of South Sudan on July 9 2011, the population of Africa's youngest state continue to live in the midst of violence. The federal state of Western Equatoria was initially spared from the worst of the conflict that broke out again in December 2013 – focused initially on the north and northeast of the country. However, the large numbers of people displaced by the conflict placed the resources of other parts of the nation under severe stress – even triggering violence between locals, who are mostly agriculturalists, and groups of internally displaced people, who move with their herds and can damage and destroy crops and fields. The general economic situation has been severely affected by the conflict – burdening the population with extreme price rises. Poor security or damage during the rainy season renders many supply routes impassable.
Our goal is to sustainably promote nutrition-sensitive agriculture, and boost the socio-economic capacity of the population in Maridi County, with a focus on especially vulnerable groups. Our intention is not just to increase agricultural production, but to take a holistic approach centered on food quality in order to allow the population to enjoy a healthy and balanced diet. This is to be done by:
Improving the income sources and food available to especially vulnerable households
Improving the supply of seeds, processing, storage and marketing of local products through the development of agricultural cooperatives
Revival of veterinary medical care
Supporting school gardens, and providing schools with educational materials
Strengthening our partner organizations by developing and strengthening management capacities
Delivery of agricultural tools and seeds to diversify food production and increase yield
Development of specially adapted educational materials, and provision of training for members of target households
Support for local agricultural authorities by offering veterinary services
Raising popular awareness of livestock diseases through radio
Mobilization and foundation of agricultural associations such as cooperatives and producer groups
Construction, work-up and optimization of small silos and storage spaces for harvested produce
Equipment of schools with agricultural tools and seeds for school gardens
Training pupils in topics to do with agriculture and nutrition, such as healthy eating, WASH, food hygiene etc.
Country info
Capital: Juba
Area: 644,329 km²
Population: c. 12 million
Project data
Project duration: since September 2015
Donors: German Federal Ministry for Economic Cooperation and Development (BMZ), Sonderinitiative für EINE Welt ohne Hunger (SEWOH)
Partners: Rural Action Against Hunger (RAAH), New Sudan Women Federation Maridi (NSWF), South Sudanese Department for Agriculture, Education Department

Last updated: March 2016