Eco-friendly construction is bringing hope to refugees and youths in Uganda
Uganda is home to some 1.3 million refugees, majority of whom have fled violent conflict in neighboring South Sudan. Despite having a very generous and welcoming policy, the arrival of refugees has had a strong impact on the environment and the labor market of the country. A high demand for construction timber and firewood for new settlements has resulted in massive environmental degradation as millions of trees have been cut down. The influx could also worsen the situation of youth unemployment and put pressure on an already poor social infrastructure, threatening social cohesion and future economic growth in the country.
Strengthening local economy through ecofriendly housing
Together, Malteser International and Impact Building Solutions Foundation (IBSF), a Ugandan social enterprise, are committed to tackling these challenges. IBSF specializes in eco-friendly building materials, including strawboard panels manufactured from compressed rice straw, one of the world's largest bio-waste crops. Many farmers in Uganda cultivate rice as a staple food. It is estimated that every ton of rice grown creates 500 pounds of rice husk and straw. As a result, most farmers tend to burn the straw in open fields, causing air pollution and serious health problems. By turning this organic waste into construction materials, our partnership not only helps to provide zero-carbon building alternatives to the traditional fired brick devastating Ugandan forests, but also promotes a circular economy in the region and creates a new supply chain that increases income for local farmers. The production of the strawboard panels in turn creates jobs and training opportunities.
Creating prospects, enabling innovation
Our regional strategy in Africa also focuses on empowering youth for employment through improved vocational training and increasing employment opportunities. The partership with IBSF is creating job skills for young people including refugees, and developing upskilling programs in cooperation with technical colleges in the country. This is in line with the Uganda Skills Development Project (USDP), a national action plan aimed at creating employable skills relevant to the labor market and enhancing the capacity of institutions to deliver demand-driven training programs in the construction, manufacturing and agriculture sectors. The resulting jobs and associated opportunities provide benefits for both workers at IBSF and young people around the region.
Maintaining and improving innovations like the sustainable carbon-saving construction is impossible without adequate scientific research. We are therefore facilitating exchange between tertiary institutions in Germany and the renowned Makerere University in Kampala. IBSF has also helped erect a center for Sustainable Construction and Research within Makerere University campus to promote further research into eco-friendly building techniques and materials.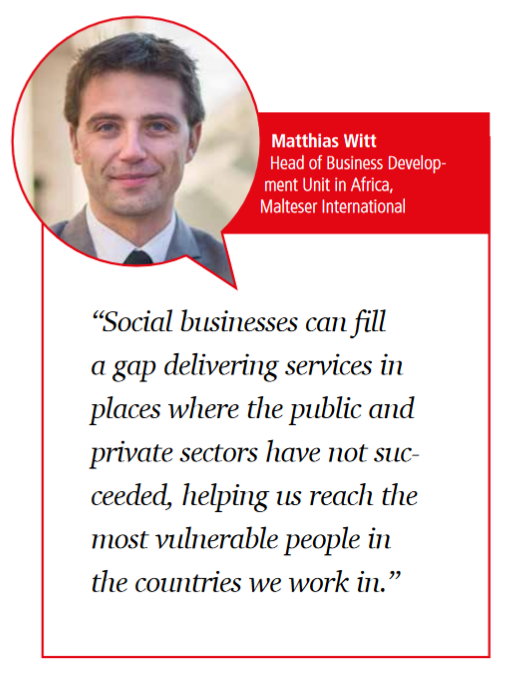 Supporting social enterprises –
a new paradigm in response to crises
Malteser International has always recognized multi-stakeholder partnerships as uniquely powerful forces for spurring positive social development. "Social businesses can fill a gap delivering services in places where the public and private sectors have not succeeded, helping us reach the most vulnerable people in the countries we work in," says Matthias Witt, Head of Malteser International's Business Development Unit in Africa.
In 2000, Malteser partnered with the Diocese of Mahagi-Nioka in DR Congo and the National Bureau of Medical Services to establish a pharmaceutical warehouse to cater to the health needs of the population. Six years later, the initiative Centrale D'Achat Et D'Approvisionnement En Médicaments Essentiels Du Nord-Ituri Et Haut Uélé (CAAMENIHU) was founded on the basis of the warehouse. Today, CAAMENIHU is a successful non-profit social enterprise, providing nearly four million people in rural DR Congo access to essential medicines and medical consumables at affordable prices.
Our work with social businesses is at the very core of a new movement to integrate social aims with profits, and the successes in DR Congo and Uganda are encouraging us to continue along this path. Beyond the existing limitations of traditional aid, Malteser Internati-onal sees the real power of these cross-sectoral partnerships in creating jobs, building resilience, promoting innovation, and spurring economic revival in disadvantaged regions.