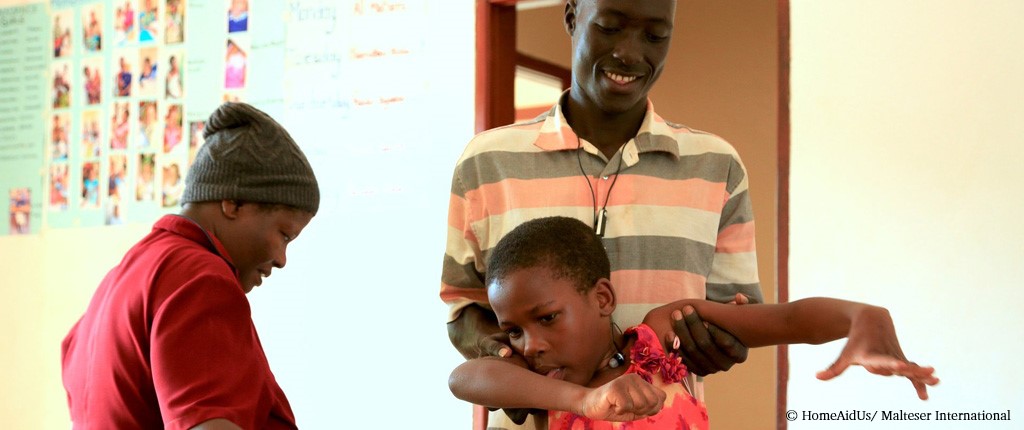 Quality improvements in physiotherapy services in Uganda
More than four million people in Uganda are living with a physical disability. Oftentimes these illnesses are not detected during pregnancy resulting in complications at birth. There is also a significant increase in the number of people injured in road traffic and occupational accidents. Those affected usually suffer these consequences for the rest of their lives: It is estimated that over 70 percent of people with disabilities in Uganda live in poverty.
Many of these cases could be treated with adequate physiotherapy, but there are not enough physiotherapy professionals in Uganda.
Malteser International is working to make a lasting impact on the physiotherapy sector in Uganda. Together with a training institute in the Lubaga Hospital in Kampala and the professional association of physiotherapists in Uganda, we are working towards achieving the goal of strengthening the physiotherapy sector in Uganda by improving the training facilities and informing the public and decision makers on the benefits of physiotherapy.
For one million inhabitants in Uganda, there are currently an estimated eight physiotherapists. Very few therapists complete their training every year. The teaching methods are outdated and the training conditions poor. Trainees are often unable to access equipment and teaching materials that are necessary for teaching in line with modern standards. There are only about ten physiotherapists qualified to train others
The low standard of training and working conditions can partly be attributed to the inactive role of the national association of professional physiotherapists. There are only a few members and fewer training courses organized by the association. The Ministry of Health has also not given much priority to the field of physiotherapy.
These conditions make it hard for patients, especially those in rural areas, to access health services involving physiotherapy. While hospitals in urban regions have a limited range of therapy options, many hospitals in rural areas often have to make do with one physiotherapist.
An updated curriculum for training in physiotherapy at the Lubaga Training Institute

Strengthened advocacy by the professional association of physiotherapists

More qualified people trained as physiotherapists in Uganda
Expansion of the physiotherapy department of the Lubaga Hospital with adequate equipment and learning resources.

Updating the physiotherapy curriculum to reflect state-of-the-art methods and training of teaching staff.

Joint development of a business and action plan for the professional association of physiotherapists to ensure a broader awareness of the benefits of physiotherapy and to strengthen the organisational structure.

Organizing regular further education through the professional association.
Country info
Capital: Kampala
Area: 241,040 km²
Population: approx. 38.8 million
Project Info
Duration: February 2019 - September 2021
Financing: German Federal Ministry for Economic Cooperation and Development (BMZ)
Partners: Lubaga Hospital und Ugandan Physiotherapy Association
Contakt: alexandra.kaiser(at)malteser-international.org
Last update: April 2019