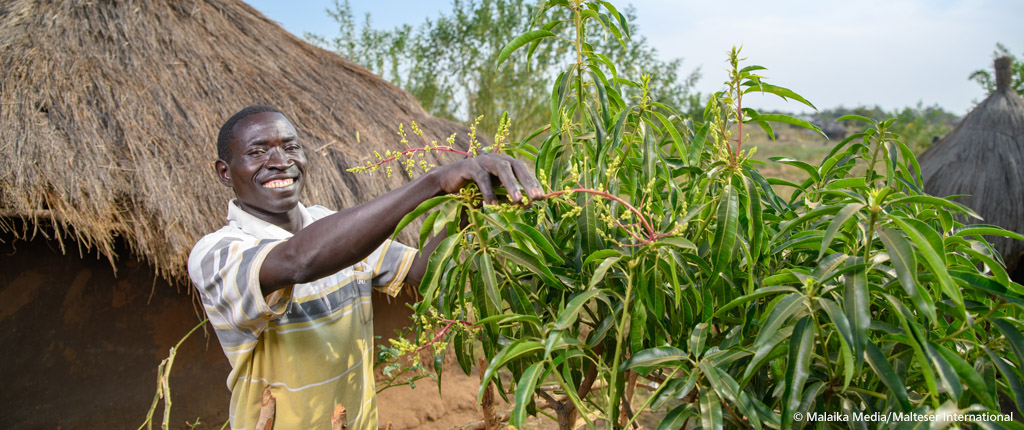 Uganda: Building sustainable livelihoods through reforestation
Massive deforestation in Uganda has seen Uganda lose over two-thirds of its forests in the last 25 years.
The country's poorest communities are being hit hardest by the impacts of climate change and the effects of deforestation. The resulting desertification from forestation has led to soil degradation, loss of biodiversity, flooding, and prolonged drought which threated food security. However, for many families fuel wood is the main source of energy. They depend on wood and charcoal to cooking and washing.
To restore tree cover and help create sustainable livelihood opportunities, we promote environmental conservation initiatives in northern Uganda. We work in close cooperation with local partner organizations.
Uganda's ecosystems have come under enormous strain. Around two thirds of the country's total forest area have been lost since 1990. In addition to this, the effects of global climate change are most noticeable in the arid regions of northern Uganda and are getting worse as the country's forest area dwindles. Rainfall has become erratic, floods have increased, and droughts have become longer.
Most of Uganda's poorest populations live in the northern part of the country. In the absence of adequate alternatives, charcoal-burning is a means of survival. People in the region cut down trees and use firewood cooking and building shelter. The arrival of over 1 million refugees, mostly from neighboring South Sudan, has increased the already high demand for natural resources.
All these conditions have led to serious worsening of the ecosystem: the soils are losing their nutrients and becoming unusable for agricultural use. The biodiversity of the region is depleted. Crop failures have increased. If nothing is done to counter deforestation, the ecosystem in the Arua district of northern Uganda could soon collapse.
Urgent measures are needed to restore the ecosystem in order to conserve the environment, meet the demand for natural resources of both refugees and the host population, while maintaining the region's agricultural potential.
Making a sustainable contribution to the conservation and protection of natural resources in northern Uganda through the restoration of 90 hectares of forest in the Arua district.
Reducing poverty in the region by creating income opportunities for the refugee population and host communities in sustainable agriculture and forestry, thus.
We implement comprehensive measures together with our local partner organizations Ecological Christian Organization, The Victim Relief Alliance and Caritas Nebbi with the aim of protecting natural resources in northern Uganda and creating income opportunities.
Reforestation
We are reforesting 90 hectares of forest.
We are providing vocational prospects for 20 young people in nursery gardens and equipping them with tools and training them in the nursery business.
Sustainable use of natural resources to generate income
We are distributing 4000 fruit trees to vulnerable families to help them meet their food needs.
We are offering 100 smallholders beekeeping training and equipping them with tools and hives.
We are providing training in sustainable forestry to 60 smallholders.
We are providing training in sustainable land management for 60 smallholders, who will pass their knowledge on to 300 other farmers.
We are distributing low-energy cooking stoves to five schools

Information
We are preparing 60 young people to become multipliers of knowledge in resource conservation. They will spread information on the sustainable use of natural resources to 4000 families.
We are helping to establish and support five environmental clubs in schools with youth groups working on resource conservation.
We are supporting radio programs on the issue of environmental protection.
Strengthening local capacities
We are facilitating meetings between governmental and non-governmental actors on the topic of environmental conservation.
We are also training the employees of our partner organizations to ensure the sustainability of the project.
Country Info
Capital: Kampala
Area: 241,040 km²
Population: approx. 38,8 million
Project Info
Financing: Federal Ministry for Economic Cooperation and Development (BMZ), Aktion Deutschland Hilft (ADH)
Partners: Ecological Christian Organization, The Victim Relief Alliance, Caritas Nebbi
Contact:: daniela.krings@malteser-international.org
Last update: February 2020