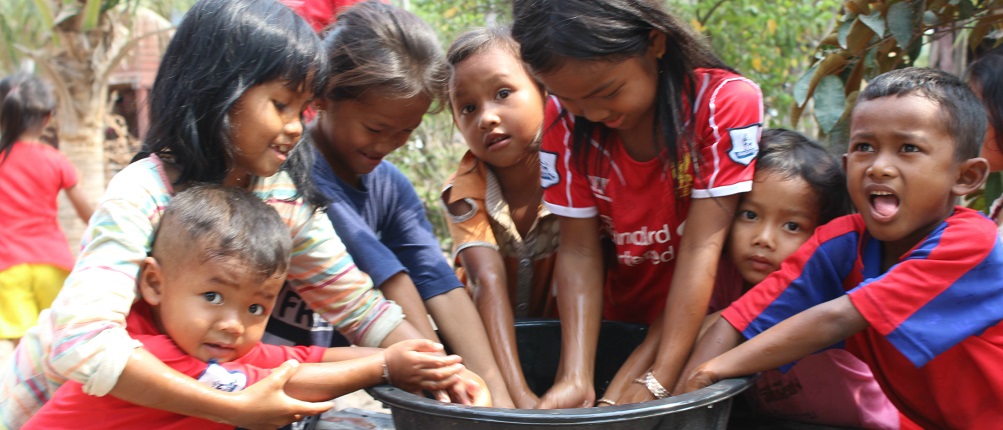 Better Health through WASH
Better Health through WASH
Access to safe and sufficient drinking water and to an appropriate sanitation in Cambodia is inadequate. Common consequences for the already poor population are diseases and malnutrition. To improve the health and the living conditions of the rural population, especially women and children, in Oddar Meanchey province, Malteser International and its national partner organization CHHRA (Cambodian Health and Human Rights Alliance), started a comprehensive project in the field of water, sanitation and hygiene (WASH) in April 2014.

Besides health and hygiene promotion campaigns to explain the relationship between insufficient sanitation, water provision and the health of the population, Malteser International and CHHRA work together with communities to seek solutions. The communities receive assistance and technical advice to build new rainwater collection tanks and latrines for each household.
Due to decades of war, the north-west of Cambodia is still one of the least developed regions of Cambodia. Oddar Meanchey's population mainly consists of returned refugees and migrants from other regions of the country. They live in very basic conditions and try to ensure their existence by using minimal resources.
Until 1999, the province was an area of retreat for the Khmer Rouge, and therefore it has dense networks of land mines. Democratic structures in this region are also less developed than in other parts of the country. With a poverty rate of 29%, the province is one of poorest and least developed regions of Cambodia. Poverty in Cambodia is mainly a rural problem, caused amongst other things by a poor health, which in return is due to the inadequate supply of clean drinking water and lack of sanitation. The majority of the populaiton in in Oddar Meanchey has no acess to sufficient and safe drinking water or appropriate. These problems remain one of the key development challenges in Cambodia.
Prevention and reduction of water related diseases as major causes of malnutrition among children under 5 years of age.
Improved access to basic sanitation facilities.
Improved access to safe and sufficient drinking water.
Improved utilization of food, and reduced behaviour posing a risk to health.
Awareness raising through educational campaigns in the areas of nutrition, health and hygiene.

Support for latrine construction at the household level.

Training in household water treatment and safe storage at the household level.

Support of rain water collection tank construction at the household level.

Introduction of productive sanitation methods, such as urine fertilization.

Establishment of a coordination mechanism between the Provincial Health Department and the Provincial Department for Rural Development for further improvement of the health situation in the province.
Country info
Capital: Phnom Penh
Area: 181,040 km²
Population: 15.67 Million
Project data
Project Duration: since April 2014
Donors: German Federal Ministry for Economic Cooperation and Development (BMZ), private donations
Partners: Cambodian Health and Human Rights Alliance (CHHRA), Communities, Commune Councils
Last upadated: July 2016