Rohingya: "I only survived because I was left for dead"
Escaping the Rohingya massacre - "I only survived because I was left for dead"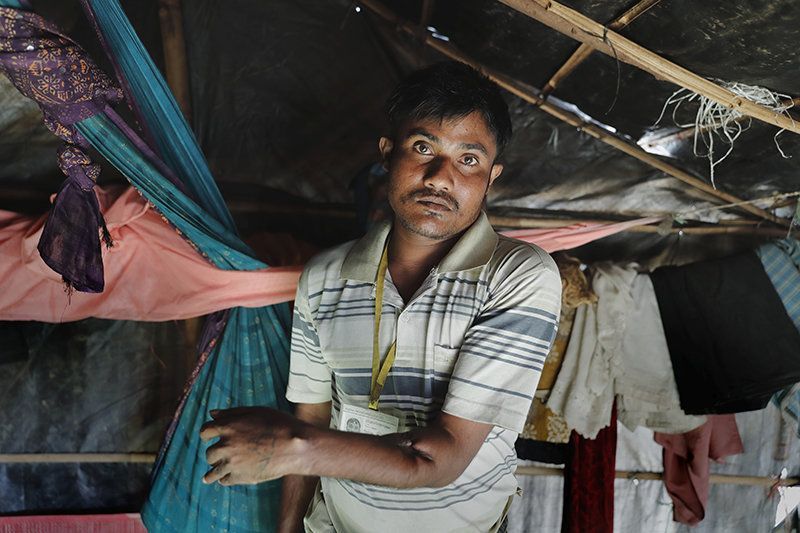 Yasin Sadak* still feels pain from the gunshot wounds on his forearm and hand. The wounds are a reminder of a horrific experience that would remain with him for a long time. He remembers the fateful night in August 2017, when he was shot while running away from armed men who had attacked his village in northwestern Myanmar.
Yasin is a member of the Rohingya ethnic group, a Muslim minority that have lived in Myanmar's Rakhine State for generations. The Rohingya have been subjected to constant discrimination and violence for decades in Myanmar, yet Yasin loved his hometown. "I am a citizen of this country," he exclaims. "Why would I want to leave?"
However, as the years of strife culminated into a full-blown violent conflict in 2017, Yasin was left with no other choice but to leave. "Nineteen people were executed right before my eyes," he recounts. "I myself fell unconscious to the ground. That was my saving grace because the attackers thought I was dead, like all the others around." The following morning, five men found Yasin alive, and took him to the Chittagong Medical College Hospital in neighboring Bangladesh where he stayed for three months, and received treatment for his injuries. Fortunately, Yasin was reunited with his family in Bangladesh.
Refuge in Kutupalong: an overcrowded camp, squalid conditions
Today, Yasin and his family live in three huts inside Kutupalong Megacamp in Cox's Bazar. The makeshift houses of bamboo and tarpaulin are built on hilly slopes composed of sand and clay without strong foundations. The heavy rains of the monsoon season are already wreaking havoc in some areas of the settlement. Many shelters have been destroyed, and lives have been lost. Thousands of refugees in the camp remain at threat from flooding and landslides. Meanwhile hygiene conditions are still poor in many areas of the camp, with heightened risks of epidemics especially in the rainy season. There is also inadequate access to clean drinking water and food.
Like many other refugees from Myanmar, when Yasin arrived Bangladesh in poor health and suffered from post-traumatic stress caused by the harrowing experiences back in his country. Malteser International is offering psychosocial help for the refugees in the camp. "Along with a local partner organization, we operate two health stations that serve about 20,000 camp residents," says Cordula Wasser, Head of the Asia Program at Malteser International. "We also provide basic medical care and maternity services."
"When it comes to food, our focus is on the most vulnerable persons in camp," Wasser continues. "We identify pregnant women, nursing mothers and undernourished children to provide them with life-saving supplementary feeding. However, with a camp size of around 800,000 refugees, it goes without saying that much more help is needed to give the displaced Rohingya lasting hope and confidence."
Malteser International: We care for more than 20,000 refugees in Kutupalong
Living in exile
Yasin dreams of returning to his homeland in Myanmar every day, it is not certain, he will be recognized as a citizen if he returns. The Rohingya are in fact a stateless ethnic group. They are not allowed to vote in Myanmar, they have been denied access to higher education and do not enjoy freedom of movement. Many Rohingya villages and settlements are considered illegal in Myanmar and may be seized or destroyed without notice.
The Rohingya have said they would be willing to go back to Myanmar only if they can be assured of safety and protection. They also demand recognition as one of Myanmar's ethnic groups, citizenship and compensation or restitution for land and property confiscated or destroyed. However, there is currently no indication that this will happen in the near future.
Your support is urgently needed to help refugees in Bangladesh. Please give now.

*names have been changed for privacy reasons
Yasin Sadak* tells his story