#WomenHumanitarians: Habiba's Story
#WomenHumanitarians - "Service above self, doing good, and showing kindness"
Habiba's journey from the world's largest slum to the world's largest refugee camp
Even in her young years, humanitarian aid was a matter close to Habiba Mohamed's heart. The 35-year-old native of Nairobi, Kenya joined Malteser International in 2018 as Health And Nutrition Coordinator in Bangladesh, and is helping to ensure medical care for Rohingya refugees in Cox's Bazar. In this interview, she talks about her experiences as a female humanitarian worker on the frontlines in a career that has seen her respond to emergencies in multiple countries.

How did you get into humanitarian aid? And why did you become a humanitarian aid worker?
I grew up in arguably the world's largest slum, Kibera in Nairobi, Kenya. We often received free healthcare from aid organizations that set up free medical camps in the slums. I was inspired by the doctors and how they treated people, never asking for payment. Many people in the area could not afford medical bills anyway. From then on, all I wanted to do was to be able to provide the same help to less privileged communities, not just in my country but all over the world. So I studied medicine, and went to South Sudan to start my humanitarian career.
Are there specific moments in your career in which your gender played an important role— positive or negative?
Here in the refugee camp in Bangladesh, being female makes it easier for me to interact with beneficiaries. I am able to address very sensitive issues and they also feel free to share as they feel comfortable having a woman around.
Gender plays a big role when it comes to social interactions between men and women in many places where humanitarian aid is needed. In some occasions, women are prevented from accessing vital services if these services do not conform to cultural norms. As a woman, I have enjoyed greater access to many female beneficiaries than my male colleagues. This exclusive access helps me identify root causes of many issues that, quite often, are never discussed in public spaces.
However, I know and acknowledge that sometimes my gender works against me and there is hardly anything I can do about that. In cases of insecurity, say during a military ambush, my male counter parts might have a higher power of negotiation because they would be dealing with possibly power hungry males who will not have ears for a woman's opinion. That of course will not be my big stage to push for gender equality. So I just try to stay alive.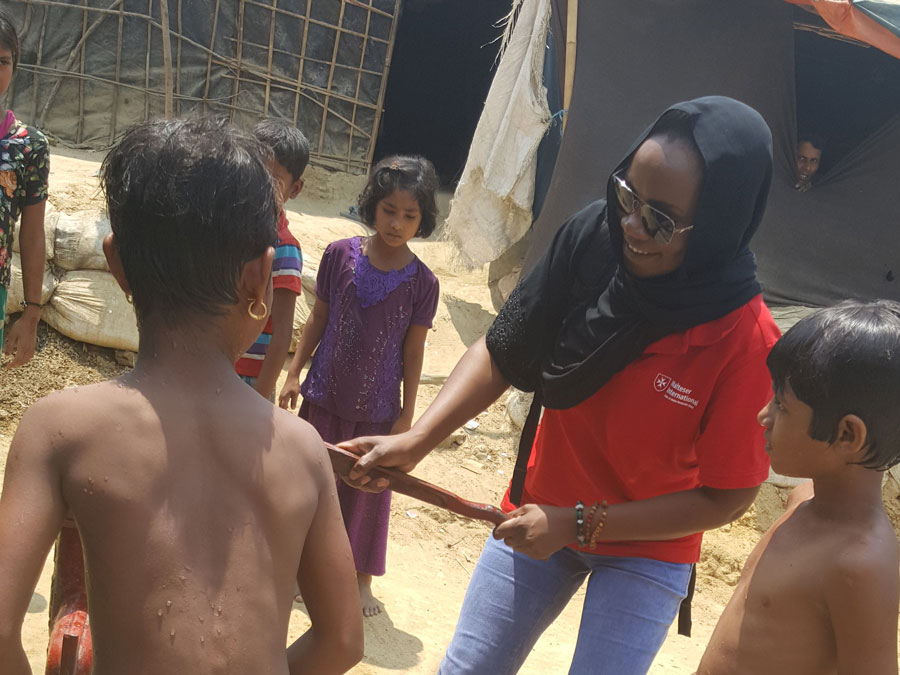 What stereotypes annoy you or what situations repeatedly happen to you just because you're a woman in the sector?
The stereotype of the diffident female annoys me so much. On many occasions, female colleagues have held back their opinions because they didn't want to come across as pushy. Sometimes they even think their ideas are not good enough and that they need to seek approval of their male counterparts. As a female humanitarian worker from Africa, I sometimes feel that I have to work twice as hard to be taken seriously. Having worked in 6 countries in my humanitarian career (South Sudan, Nigeria, Yemen, Pakistan, Sierra Leone, Bangladesh), I have experienced discrimination, especially in the high-profile meetings where power display overrides common agenda. I have had to ask men to join me for meetings only because their presence helps the others to take me seriously and accord me respect.
You work with women refugees in Bangladesh now. How does your gender connect you with what they're going through?
Many of the women here face sociocultural factors that impact on their ability to access health, education and other services. Sometimes women and their families are threatened if they go to work or leave their homes to receive aid. I am only lucky to have the freedom to choose and do what I want to do thanks to my parents. However, most women here do not have this privilege. As a Muslim woman, I understand the expectations of the society towards these women and this helps me diplomatically handle critical situations, of course also with the help of the Bangladeshi staff.
Did you ever fear for your life? How did your colleagues help in those situations?
Based on the insecure environments I work in, I am always in constant fear of being a victim of gender-based violence. Before field assignments, my colleagues and I usually have security briefings that inform me of potential risks.
I was scared to death during one night of intense fighting in Yemen. There were bullets everywhere on the floor of the emergency room where I was stationed. I was so scared, but someone had to receive and treat casualties. I have always been blessed with very supportive colleagues who show solidarity in difficult situations and the organizations I have worked have always taken safety and security of their staff very seriously.
How have other women helped you in your career?
Many of my supervisors in South Sudan were female. Their mentoring helped me develop, both personally and professionally. Here at Malteser International, I have had the pleasure of working with strong and reliable female managers who have supported me in my role and given me a chance to contribute to the betterment of the team.
What would you say to other young women planning a career in humanitarian aid?
Being female and constantly on the move requires a huge sacrifice. However, it is gratifying to provide help to the helpless. Gender roles will always be there despite global milestones towards gender equality. There is progress but we are far from eliminating stereotypes. Acknowledge the existence of these stereotypes and be ready to face them in your career as a humanitarian worker. The life of a female humanitarian worker is not easy but it is possible. Your will power as a woman to be whatever you can be is stronger than the most lethal weapon in the world today.
Finally, what does being a humanitarian aid worker mean to you?
For me, being a humanitarian aid worker means placing service above self, doing good, and showing kindness. That is all I ever wanted to do. I have often heard myself say "this is my last mission," but after a couple of months back home in Nairobi, I feel as though I am losing my purpose and then I pack my bags and head to the next mission. In my Nubian community in Kenya, it is not usual for women to travel the world working, but I enjoy doing this. This is my thing and this is what makes me sleep well at night.

August 2019, written by Michael Etoh