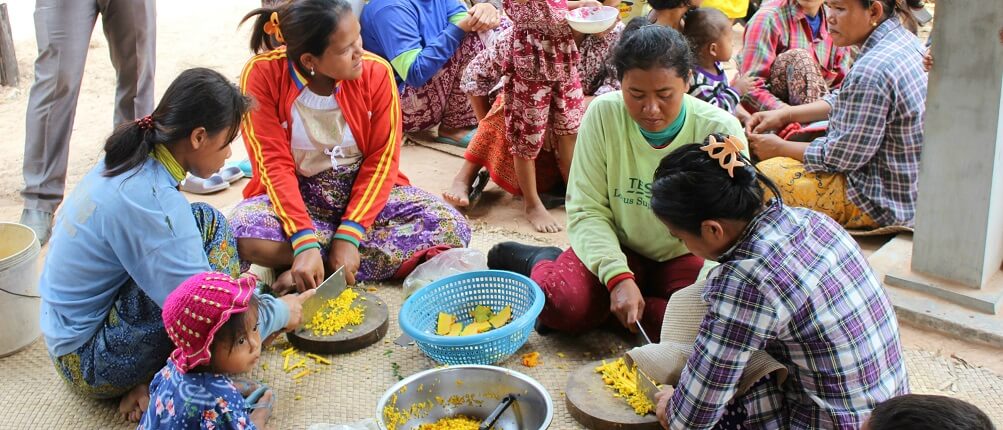 Improving food and nutrition security
For the majority of the population of Cambodia, food and nutrition security is a major problem: almost two thirds of the families in the region suffer from food scarcity for about four months out of the year. The consequence of this is chronic malnutrition and undernourishment, especially of women and children. Malteser International follows a comprehensive approach that tackles both the causes and the consequences of under- and malnourishment. With a variety of measures used to treat infants up to two years of age, mothers and pregnant women, Malteser International works to take direct measures to improve nutrition, such as educational campaigns in the areas of nutrition and hygiene, as well as the causes of inadequate nutrition – such as insufficient income, low food production and a lack of clean drinking water.
Cambodia is one of the countries with the highest rate of child malnourishment in the world. The provinces of Oddar Meanchey and Siem Reap in the north-west of the country, where Malteser International is active, are amongst the least developed in Cambodia, with respectively 37 and 31 percent of the population living below the poverty line. Siem Reap is one of the three Cambodian provinces most affected by malnutrition: with more than half of all children suffering from chronic undernourishment. A balanced diet plays a central role to children's' development. Children who are undernourished, especially in the first two years of their lives, do not develop as well as those with a good diet, and they often develop permanent mental or physical disabilities. Among women, undernourishment leads to reduced productivity, higher vulnerability to infections, slower recovery and risky pregnancies.

The problems of food and nutrition security are also closely related to the adequate provision of water, sanitation and hygiene. A hygienic environment, clean drinking water and good sanitation are preconditions for a healthy digestive system. Diseases such as diarrhea, or infestation by intestinal parasites, can frequently occur and recur where sanitation is poor, and prevent the body from using food properly. According to WHO statistics 88% of all diarrhea cases worldwide are caused by unsafe water, inadequate sanitation or insufficient hygiene. Meanwhile, access to safe, sufficient drinking water and to sanitation facilities in rural areas of Cambodia is available to a mere 66% and 25% of the population respectively.
Improved use of food and minimized risky health behavior.




Improved access to food through support for home gardens and the raising of small livestock animals for improved nutrition and food security.



Improved access to sanitary facilities and safe drinking water for vulnerable communities and schools.

Supervision and on-the-job training for health personnel, especially in the areas of nutrition, growth monitoring, as well as pre- and post-natal care.



Strengthening and training of village health support groups to improve knowledge of nutrition, and maternal and child health.


Support for vegetable farming and the husbandry of small livestock animals to generate income, and to improve nutrition and food security.




Training and support for farmers in increasing crop yield, diversification and marketing.

Construction/rehabilitation of water supply systems and sanitary facilities in villages and schools.




Educational campaigns in the areas of nutrition, health and hygiene in villages and schools.
Country info
Capital: Phnom Penh
Area: 181,040 km²
Population: 15.67 Million
Project data
Project duration: since August 2014
Donors: German Federal Ministry for Economic Cooperation and Development (BMZ), Czech Embassy Phnom Penh, 'Just A Drop', private donations
Partners: Provincial health departments, health center staff, village communities