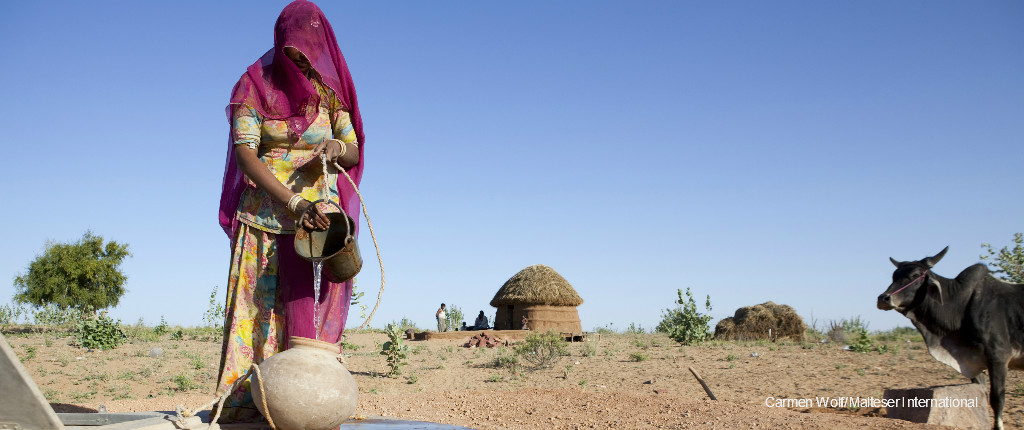 Improving food security in the Thar Desert
Despite steady economic development and comprehensive government programs, one out of every three children in India still suffers malnourishment. The number of undernourished children under the age of five and women is particularly high in rural and socially disadvantaged regions where hygiene conditions are poor.

In partnership with the Indian organization UNNATI, we are working to improve food security in 50 villages in the arid Thar desert by helping local farmers adapt to climate change through their cultivation methods. In addition to campaigns on healthy nutrition and hygiene to prevent malnutrition, UNNATI trains socially vulnerable communities as they apply for and receive state benefits from government-run food security and health programs.
One out of three children in India is underweight, while women still suffer from undernourishment. During pregnancy, this affects both the pregnant woman and the developing child in the short and long term.
Diarrheal and worm infections from dirty waters coupled with unhealthy sanitary conditions increase the risk of undernourishment.

Rajasthan is India's largest state by area. Most of the region is covered by the Thar Desert with a large part of the local population living in rural areas. Malteser International's activities are concentrated in the western part of Rajasthan, encompassing 50 villages in the socially disadvantaged Barmer District. The district is also prone to extreme weather events. Barmer District has an average rainfall of 210 millimeters, and every slight change in the distribution of rainfall results in periods of drought. This makes life difficult for the small-scale farmers who can not afford irrigation systems. An Indian government official has named Barmer one of the backward districts in the country.
Current government programs on food security, health and social security are insufficiently taken up by the local communities, among which women and girls are the most vulnerable.

The project aims to improve food security in 50 villages in the Thar Desert region of Rajasthan, thereby strengthening resilience of communities against hunger crises.

Concrete project objectives include:
• Improved cultivation methods
• Improved uptake of programmes on food security and health
• Healthy nutrition and better hygiene, especially for women and young girls
Cultivation of 45 gardens and 200 small kitchen gardens
Training for local agricultural advisors
Construction of two rental centers for agricultural equipment
Supporting smallholder farmers to gain access to agricultural advisory services
Monitoring the provision of state services by women and girls
Supporting communities to gain access to government programs on food and nutrition, health and social security
Advocacy with local authorities
Training of Female Nutritionists and WASH Officers
Promotion campaigns on healthy nutrition and hygiene for girls, pregnant, and nursing women
Cultivation of Azolla used as animal food
Construction of toilets and access to water in the public child development centres (anganawadis)
Project data
Duration: October 2016 - July 2020
Donors: German Federal Minitsry for Economic Cooperation and Development (BMZ), private donations
Partner: Organisation for Development Education (UNNATI)

Last Update: January 2020
Country info
Capital: New Delhi
Area: 3,288,000 km²
Population: approx. 1.35 billion