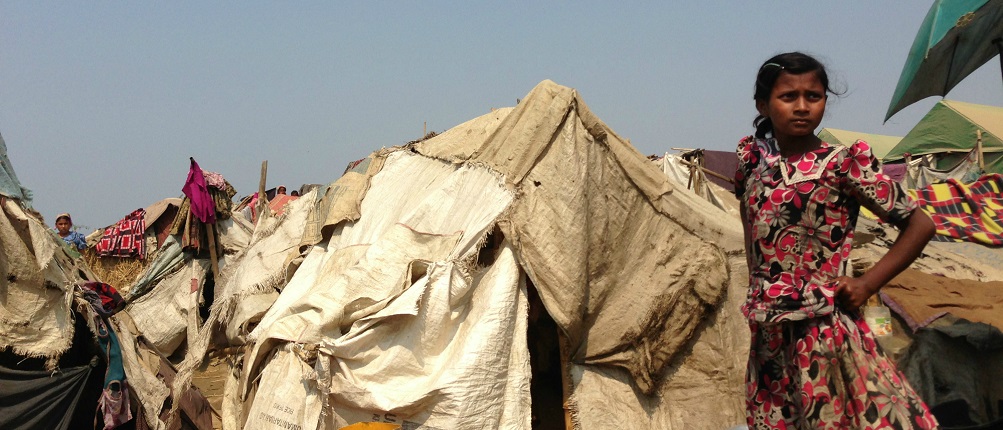 Preparing the ground for refugee return
Recent political changes in Myanmar have shed a positive light on the country in the Western world. For people living in Kayin State (also known as Karen State) in east Myanmar, these changes mean hope for a better life, humanitarian NGOs like Malteser International are now able to provide the assistance that is so badly needed. The villages in this region are not only poor and underdeveloped, they are also unprepared for the expected return, caused by the change in the political situation, of the Myanmar refugees currently living in camps in Thailand, who will vastly increase pressure on local resources.
Malteser International's comprehensive program in the region combines a variety of measures in the areas of health, water and sanitation, social infrastructure and disaster preparedness . In cooperation with local health institutions, we are building and reinforcing infrastructure to prepare villages on the border with Thailand for the return of the refugees. Schools and health posts are being built, which are also equipped with sanitation facilities and a supply of safe drinking water. In case of disaster, these buildings will also serve as evacuation centers. Malteser International is also working with communities in the field of water, sanitation and hygiene to secure access to safe drinking water, and promote the construction and use of latrines.
Health and hygiene awareness campaigns are an essential part of the project, so that residents can understand the relationship between health and hygiene, and are motivated to practice better hygiene. In addition, participation in mother support groups and health and water committees increases the communities' own self-help capacities. As landmines are still found in large numbers in this once disputed region, increasing awareness of the problems they cause, as well as assisting landmine survivors and people with disabilities also forms an important part of our work in the area.
The project area in Kayin (Karen) State, bordering Thailand, has long been marked by the conflict which started in 1948 between forces of the Karen National Union (KNU) and government troops, leading to constant refugee movements in the area. Currently, about 110,000 displaced ethnic Karen are living in refugee camps in Thailand, where Malteser International has been responsible for the provision of health services to around 23,000 Karen in two of these camps since 1993.

As part of recent political changes, serious negotiations have led to a ceasefire agreement with the KNU, and an end to the long-lasting civil conflict seems to be in sight. The long-lasting hostility, however, has left its mark on the region - which is said to be among the poorest in the country, and the social infrastructure in Kayin State has been left badly underdeveloped. There is no functioning health care system and not nearly enough qualified medical staff. Malaria, dengue fever, diarrhea and tuberculosis are all widespread, and often deadly. 60.0 percent of deaths of children under 5 stem from these preventable and treatable diseases. 28 percent of all child deaths are caused by malaria alone. Most people do not have a safe drinking water supply and only half of the population owns a fly-proof latrine.
To improve the living conditions of the vulnerable population in Hpa An und Hlaing Bwe Townships, and support the preparation for a sustainable return of refugees by:
Improving access to and usage of basic health services.
Achieving a reduction of maternal, infant and child mortality rates, and strengthening maternal and child health.
Development and implementation of village development plans for improved water and sanitation supply
Disaster preparedness through awareness of and access to cyclone and flood-resistant evacuation centers.
Construction, rehabilitation and equipment of schools and health posts. These facilities can simultaneously, be used as cyclone-resistant evacuation centers. They have sanitation facilities and a safe drinking water supply.

Construction of latrines, wells and rainwater tanks for schools.

Building on the results of participatory community analysis by rehabilitating or constructing drinking water sources such as rainwater ponds, rain water tanks or wells and the development of water safety plans to ensure a water supply all year round.

Piloting the construction of household latrines using the Community-Led Total Sanitation method.

Training and equipment of voluntary community health workers and auxiliary midwives as well as of local government health staff.

Support for vaccination campaigns.

Establishment of mobile clinics in areas with limited medical services.

Undertaking health and hygiene awareness campaigns in villages and schools.

Undertaking malaria awareness campaigns and mosquito net distribution.

Establishment of mother support groups, as well as village health and water committees.

Undertaking disaster preparedness awareness campaigns.

Supporting the issuance of birth certificates and national registration cards.

Increasing awareness of mines.

Exchanging visits and internships for health and WASH staff from two refugee camps in Thailand to encourage knowledge transfer and foster trust.
Country info
Capital: Naypyidaw
Area: 676,578 km²
Population: c. 51.5 Million
Project data
Project duration: since July 2012
Financing: German Federal Ministry for Economic Development and Cooperation, private donations
Partners: Local health authorities

Last updated: August 2018