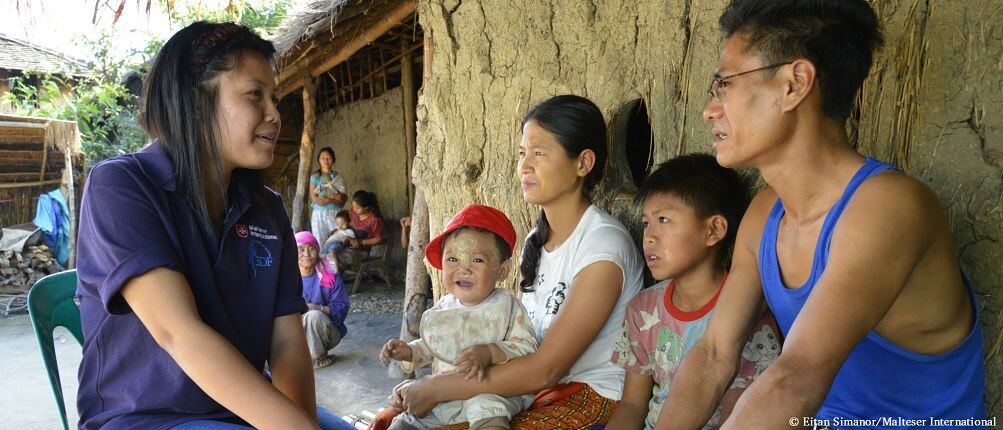 Fighting Tuberculosis and Malaria
Although modern immunization and treatment methods have long made Tuberculosis (TB) almost unknown in the West, for millions around the world it remains a frightening and deadly disease. Treatment for TB is a long-term undertaking and factors such as a high degree of mobility amongst the population, a lack of information and limited infrastructure can make the process highly difficult.

Malteser International began work on a project for the control of TB amongst vulnerable groups in the township of Maungdaw in 2003. In October 2007, the TB project was extended to the neighboring township of Buthidaung in northern Rakhine State – bringing more than 650,000 people within its reach. The focus of the project is control of TB using a combination of education, care and treatment. Attendants trained in DOTS: the Directly Observed Treatment Scheme are key to this effort, as is the targeted provision of food to infected people and their families. This last measure both supports the patient in their convalescence while creating an incentive for them to continue to follow their treatment to a successful conclusion.
The humanitarian situation in northern Rakhine State is dire. Most of the region's Muslim minority has been living for generations in almost inhuman conditions: doing their best to survive with what little means they have. The population is mainly landless. The high rate of poverty and population density, coupled with malnutrition makes the region a breeding ground for communicable diseases such as TB and Malaria. The Muslim minority remains a marginalized and vulnerable element of the population that is denied both recognition as an ethnic minority as well citizenship of their own country.
Sustainable reduction in the rate of TB infection, withdrawals from treatment, morbidity and transmission.
Secure access to adequate TB and Malaria diagnosis, treatment and care facilities for the population in cooperation with the national TB/Malaria program.
Reduce the risk of becoming immune to medications caused by withdrawal from treatment.
Training of Community Health Workers and Traditional Birth Attendants (TBAs) to become DOTS attendants.

Training of Community Health Workers in Malaria testing and treatment, and equipping them with the necessary drugs.

Provision of bicycles for DOTS attendants to increase their mobility.

Increasing knowledge on the dangers of TB and Malaria amongst the population via education campaigns in the villages.

Assure that TB and Malaria diagnosis is possible at rural health centers and local hospitals through an improved provision of laboratory equipment and special training for lab assistants.

Continuous TB and Malaria treatment with the supervision of DOTS attendants / Community Health Workers in villages to reduce the number of withdrawals from treatment.

Targeted provision of food for families in particular need to support convalescence and reduce socio-economic consequences of the illness (only TB).

Distribution of mosquito nets as preventative measure.
Country info
Capital: Naypyidaw
Area: 676,578 km²
Population: c. 51.5 Million
Project data
Project duration: since August 2003
Donors: UNOPS-3DF, EuropeAid, World Food Programme, UNHCR, Global Fund and private donations
Partners: Village health helpers, Lokale health authorities, National TB und Malaria control program
Last updated: July 2016