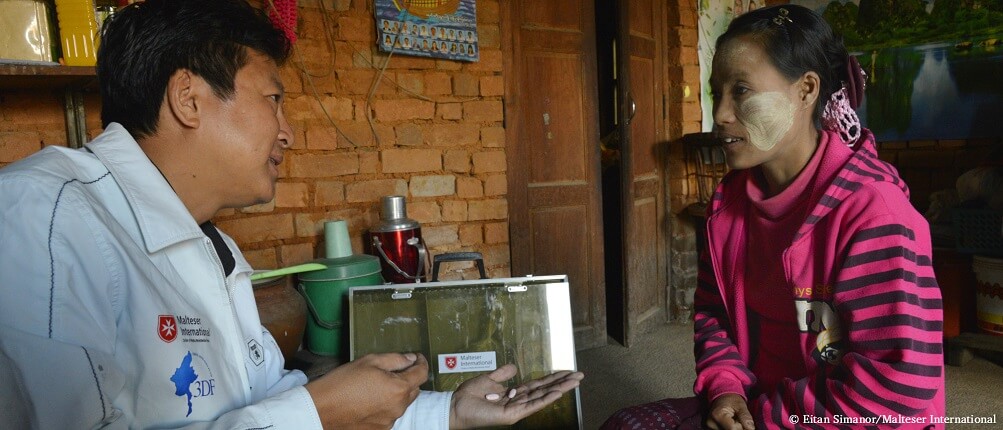 Shan: Controlling HIV and tuberculosis
Alongside malaria and tuberculosis (TB), HIV/AIDS is one of Myanmar's biggest health problems. The rate of HIV/AIDS infection is growing rapidly, and has reached epidemic proportions amongst the most at-risk elements of the population. Especially high rates of infection are reported in Shan State in the east of Myanmar. The Malteser International project region encompasses the affected area near to the Chinese, Thai and Laotian borders: Kyainge Tong and Tachileik township, as well as Shan Special Region IV and Wa Special Region II.
The Wa and Shan special regions are amongst the remotest and most neglected of the districts on the Chinese border. A highly rural and deeply impoverished area, the very diverse population comes from a multitude of ethnic groups with no common language. Between 40-60% of their year is spent in the midst of severe food shortages. The local infrastructure is poor, the level of education is low, and an increasing number of people are forced to spend their lives without a stable long-term home. At the same time, however, cross-border trade is flourishing in border towns like Tachileik in the so-called 'golden triangle' on the border with Thailand, or in the special areas of Monglar and Pangkam, where the entertainment industry that has grown up around the casinos has made the area into a HIB/AIDS hotspot.
Malteser International's first project in the so-called 'special regions' – inhabited by various ethnic minorities, and enjoying greater political autonomy – of Shan State's 'golden triangle' on the border with China, Laos and Thailand was implemented in 2003. Since then, Malteser International has implemented health projects, as well as projects to improve the provision of water, sanitation and hygiene (WASH), control the spread of malaria, and deal in a comprehensive manner with the problem of HIV/AIDS.
This project is the only one of its kind in the whole region that is aimed at stopping the spread of TB and HIV through preventative measures, combating stigmatization, and offering treatment and medications.
Malteser International operates in close cooperation with Myanmar's national AIDS and TB program, with local health authorities, and with other humanitarian and development oriented international NGOs. Alongside the diagnosis and treatment of TB, sexually transmitted diseases and HIV/AIDS, health education and information campaigns are a central component of the project, aimed at the region's most severely affected groups such as prostitutes, drivers, uniformed personnel and young people, as well as the broader public. The project aims to pay particular attention to actively involving infected people, as well as members of high-risk groups in its work.
Reduce the risks, incidence and effect of HIV and other sexually transmitted disease on high-risk groups.
Sustainably reduce the number of people infected and killed by TB, increase the number of people successfully completing their treatment.
Secure the population's access to appropriate HIV and TB diagnosis, treatment and care facilities in collaboration with government health programs.
Provide comprehensive care, support and treatment for people with HIV/AIDS and other sexually transmitted diseases, as well as their dependents.
Improvement of the equipment and competence of the local health system, and the national AIDS and TB program, support with personnel.
Support for self-help initiatives for people affected by HIV/AIDS.
Implementation of health information campaigns to spread awareness on the transmission of TB, HIV and other sexually transmitted diseases.

Selection and training of peer educators as well as DOTS (Directly Observed Treatment Scheme) assistants for the treatment of tuberculosis.

Equipment and maintenance of treatment clinics and confidential voluntary testing centers.

Comprehensive treatment for people living with HIV/AIDS including antiretroviral medication, as well as family and community based support.

Support for the integration of medical services for sexually transmitted diseases and HIV/AIDS in the existing public and private medical infrastructure.

Establishment of a community for HIV/AIDS affected people and their dependents with houses, gardens and livestock.

Targeted distribution of food to especially needy families to support the healing process and relieve the socioeconomic consequences of the disease.
Country info
Capital: Naypyidaw
Area: 676,578 km²
Population: c. 51.5 Million
Project data
Project duration: since 2004
Donors: Asian Development Bank, German Federal Ministry for Economic Cooperation and Development, UNDP, 3DF - Three Diseases Fund (UNOPS), 3MDG, Global Fund, World Food Programme, private donations
Partners: Myanmar National AIDS and TB Program, local health authorities.

Last updated: July 2016