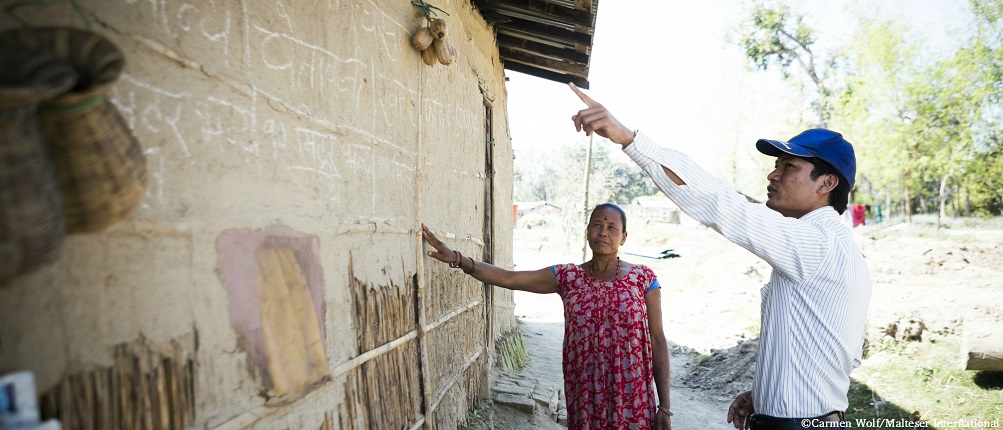 Improving flood resilience in Nepal and India
The Koshi River system has its sources in the territory of Tibet and flows through an old channel near the border with Nepal and the Indian city of Bihar. Changes in its course, construction of dams and heavy rainfall have led to devastating flood disasters in the past. The local population in the northern Indian state of Bihar have seen their livelihoods threatened by the devastating effects of frequent flooding.
On the Nepalese side, vulnerable communities affected in 2008 by the heaviest floods in record have become further impoverished by rapidly encroaching deserts into farmlands that were once fertile.
Income opportunities for the local population have also lessened. The areas bordering the River Koshi are particularly exposed to the risk of flooding. Insufficient water and sanitation supply on both sides of the border, especially during the flood periods, represents a high risk for the health of the people in this communities.
The overall goal of the project is to strengthen the resilience of 3000 communities and 5,000 households affected by flooding in the Sunsari and Saharsa districts of Nepal and India respectively. This goal will be reached through harmonising these components:
Improving income opportunities for families
Improving hygiene conditions as well as access to safe water and adequate sanitary facilities
Developing community-based plans for disaster risk reduction and management
Establishing a platform for transnational information and knowledge transfer
Situation
In training the vulnerable populations on both sides of the border on alternative ways to secure their livelihoods and providing them with access to water, sanitation, Malteser International aims to reduce their exposure to flooding.
To help them better secure their livelihoods in the event of future disasters, plans for disaster risk reduction are collectively developed with the villagers and problems facing people on both sides of the river are also jointly addressed, meaning effective solutions for everyone involved are reached. While the project supports 3,000 affected Nepalese households in Sunsari, 5,000 households in the Saharsa, a district in the Indian state of Bihar, benefit from our work.
With our multi-sectoral approach comprising activities in livelihood and income generation, WASH and disaster risk reduction, it is necessary that we work in close cooperation with partner organisations on both sides of the border to strengthen the resilience of vulnerable communities in the event of future flooding, thereby contributing to poverty reduction in these communities. Additionally, our cross-border approach focuses on developing similar solutions for the culturally intertwined societies in our project regions in India and Nepal. The project target groups include 5 village development committees in Nepal composed of 3,000 households and 3 Gram Panchayats encompassing 5,000 households in India.
Training of small-scale farmers on good and alternative farming practices
Construction of irrigation systems and agricultural warehouses
Preparatory courses for young people
Professional certificate courses for members of the community in masonry, painting, repair of mobile phones, and processing of agricultural products
Construction of flood-proof drinking water wells
Construction of flood-proof latrines and training of community members in the safe use and maintenance of latrines
Hygiene education in communities and schools and training on menstrual hygiene for young girls
Supporting village committees in developing or updating their plans for disaster preparedness and management
Improvement of local early warning systems
Campaigns and trainings on disaster preparedness in schools and communities
Sailing lessons and distribution of boats to women
Regular cross-border exchanges of community representatives and project organizations, which allow a rapid transfer of knowledge between the project regions
Supporting 55 families in 2 villages in Sunsari to rebuild their burnt homes and sanitary infrastructures
Country info
Nepal
Capital: Kathmandu
Area: 147,181 km²
Population: approx. 28.5 Million
India
Capital: New Delhi
Area: 3,288,000 km²
Population: approx. 1.25 Billion
Project data
Project duration: September 2016 - August 2019
Financing: German Federal Ministry for Economic Cooperation and Development (BMZ), "Stiftung Indien Kinderhilfe", private donations
Partner: RSDC (Nepal), SSK (India)

Last updated: May 2017