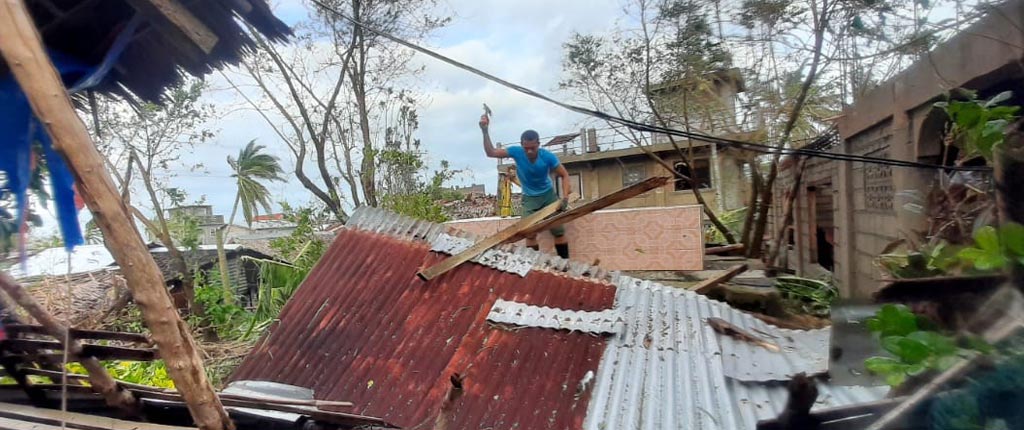 Shelter Assistance after Typhoon Kammuri
Shelter Assistance after Typhoon Kammuri
In early December 2019, Typhoon Kammuri (local name: Tisoy) made 4 landfalls in the provinces of Sorsogon, Masbate, Marinduque and Oriental Mindoro before exiting in the West Philippines Sea. Areas along its path such as the province of Northern Samar experienced heavy to intense rains as well as strong winds and storm surges. Initial reports indicated serious damage to homes and infrastructure. The storm also caused widespread flooding and interrupted power supplies and telecommunication.
According to the Philippine Government, 426,268 families were affected in 6 regions. 58,503 houses were totally destroyed, while 335,203 houses sustained damages.
After the typhoon made landfall, Malteser International and the Philippine Association of the Order of Malta conducted assessments in the municipalities of Laoang and Catarman in Northern Samar, where we have been working for the last 3 years on Disaster Risk Reduction and Water, Sanitation and Health (WASH).
The province of Northern Samar in the Eastern Visayas region was heavily affected by strong winds and torrential rains from Typhoon Kammuri which resulted in flooding. The storms left a trail of damage on roads and ports, and affected communication lines and power services for several days. A state of calamity was issued on 5 December 2019.
The municipalities of Laoang and Catarman were the worst hit in the province. Nearly 2000 homes were destroyed and more than 155,000 people were affected. Malteser International and the Order of Malta are therefore focussing on the assistance for the reconstruction of houses.
Reducing the vulnerability of households affected by Typhoon Kammuri through the reconstruction of homes
Distribution of cash for shelter materials for 14 households in Batag Island, Laoang
Distribution of vouchers for shelter materials for 75 households in Catarman
Technical advisory on build-back better principles
Country info
Capital: Manila
Area: 300,000 km²
Population: ca. 101 Million
Project data
Project duration: December 2019 - April 2020
Donors: German Relief Coalition (Aktion Deutschland Hilft)
Partner: Philippine Association of the Order of Malta

Last udpdated: December 2019