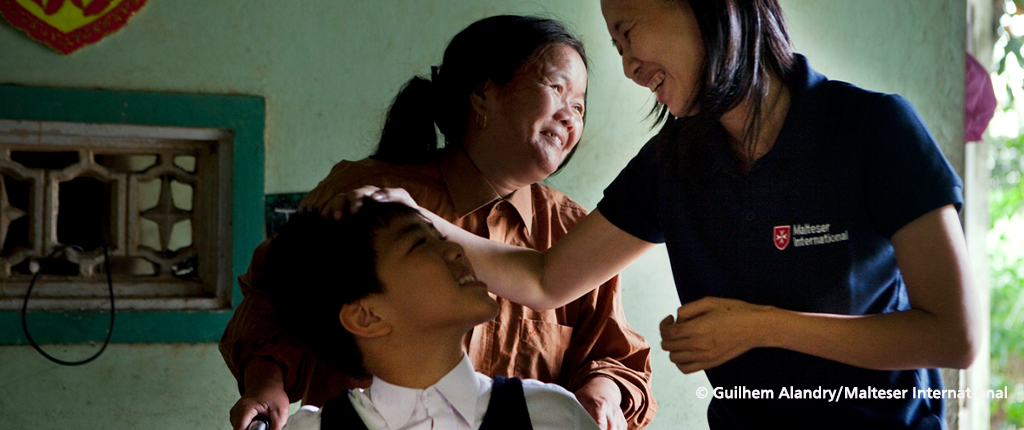 Malteser International successfully closes Vietnam office after decades of engagement
Malteser International successfully closes Vietnam office after decades of engagement
Cologne/Da Nang. Malteser International has closed its Vietnam office after a decades-long engagement in the country. "The achievements of the Malteser teams in Vietnam over the past decades has been nothing short of impressive. Since 1966, we have implemented more than 60 humanitarian aid projects and development programs," said Cordula Wasser, Head of the Asia department at Malteser International.
Most recently, the focus of Malteser International's work in Vietnam has been on disaster preparedness, as Vietnam is one of the most disaster-stricken countries in the world. Malteser International was the first organisation in Vietnam to actively involve people with disabilities in the preparation of disaster preparedness plans. The aim was to better protect people with disabilities in the event of a natural disaster. These plans have since been incorporated into national disaster prevention plans.
"In many areas, our employees in Vietnam laid the ground work for other country offices in the region. In 2003, for example, we began to actively involve local people and communities in the planning, implementation and monitoring of our humanitarian projects. Local actors and institutions have also been empowered throughout these years. And since 1999, we have supporting communities, especially women, by providing literacy courses, income-generating measures and business development courses," says Cordula Wasser.
Malteser International's first major engagement overseas
Malteser International's work in Vietnam goes all the way back to the engagement of the Foreign Aid Service of the German Malteser Hilfsdienst between September 1966 and March 1975. At the request of the German government, Malteser International sent its first staff to provide much needed medical emergency aid in Da Nang and Quang Nang during the war between the Communist North and American-supported South. Malteser International also trained medical personnel so that medical care could later be handed over to Vietnamese personnel. In 1975, however, the security situation became so dangerous for the employees that they were flown back to Germany
Malteser International was one of the first international aid organisations to resume work in Vietnam in 1989. The following years saw Malteser International go on to provide people with health, nutrition, water, sanitation and hygiene support, , especially in central Vietnam. Over the years, Malteser International's work has contributed to the reduction in maternal and child mortality. It soon became the trademark of Malteser International in Vietnam to involve the communities directly in the projects.
The work continues, carried out by former Malteser International employees
"Today, our former employees have founded their own aid organization to continue the good work in the area of inclusive disaster preparedness and other sectors of humanitarian relief. We will of course continue to maintain contact with them and will be happy to provide support if need be. They are now one of our many local partner organizations worldwide," says Wasser.
However, Malteser will not fully withdraw from Vietnam. The Malteser diocese in Stuttgart is planning a cooperation with the Catholic diocese in Da Nang.