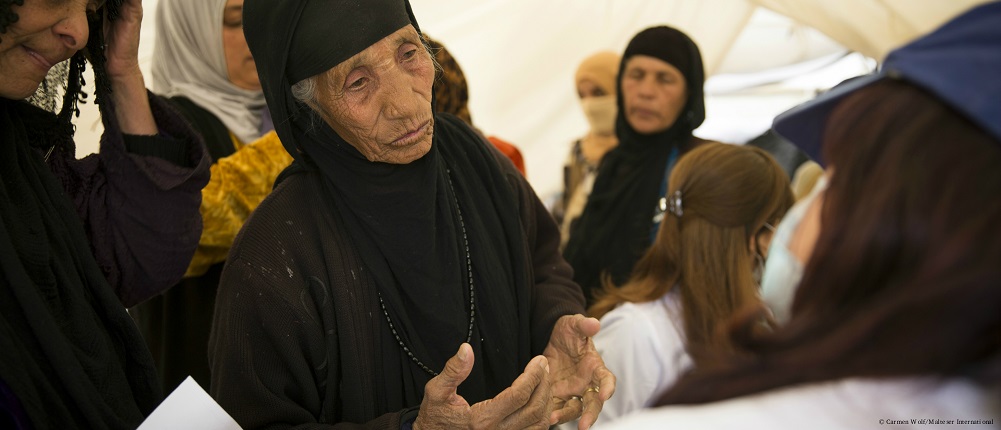 Medical care for displaced people
This project has been completed.
Medical care for displaced people
Since the outbreak of the crisis in Iraq in January 2014 around 3.4 Million people have been displaced inside the country. Their need is classified as 'high' in most of the places where they have found refuge. Providing them with the humanitarian aid that they need is a huge challenge. Many areas are extremely difficult to access - significantly hampering efforts.
Intensified fighting between ISIS and Iraqi forces, supported by militia and an international coalition, has led to instability in the front lines, accompanied by new waves of population displacement. Most of these internally displaced people (IDPs) have fled into the semiautonomous Kurdistan Region: seeking shelter in places like Dohuk and Erbil. Malteser International's emergency relief mission has been underway there since August 2014 in cooperation with the Directorate of Health in Dohuk and our local partner organization, the Al Mustaqbal Foundation (AMF) in Erbil.
Malteser International is implementing and coordinating activities in the health sector in Erbil, the capital of the Kurdistan Region, focused on providing drugs and medical supplies for IDPs living outside the camps in the city and vulnerable local host communities, where a mobile medical team operated by our partner AMF treats around 120 patients every day.
Insecurity has caused around 500,000 people to flee to the Dohuk Region, where around 25 camps for Internally Displaced People have been set up. During January 2015, in cooperation with the Directorate of Health, Malteser International began operation of a basic Health Unit serving 10,000 people in the refugee camp Bersevi II. This camp hosts mainly Yazidis, a religious group that is persecuted with extreme cruelty by ISIS. In June 2015 another Primary Health Care Unit was opened at the Kadia Camp, currently home to 15,000 displaced persons.
Furthermore, since June 2016 Malteser-International manages two mobile clinics in collaboration with the Directorate of Health Dohuk. A mobile clinic equipped with a General Practitioner and dental mobile clinic ensures Primary Health services outside Camps in 13 villages for app. 26,000 IDPs and host community combined.
Emergency aid for particularly vulnerable displaced persons (religious minorities, particularly Christians and Yezidis, widows, young children, the elderly, people with disabilities) in the Kurdistan region in northern Iraq
Primary health care for displaced persons and vulnerable local host communities in the Kurdistan region in northern Iraq
Procurement and distribution of drugs and medical supplies through the local health authorities.
Deployment of three mobile medical teams with ambulances in and around Erbil.
Two distributions of hygiene kits for 500 families in high need.
Management of medical facilities for internally displaced people at Camp Kadia and Camp Bersevi II, as well as further training of specialist personnel.
Country info
Capital: Baghdad
Area: 437,072 km²
Population: c. 33.4 Million
Project data
Project duration: since February 2016 until June 2018
Donors: German Federal Foreign Office, ADH - Germany's Relief Coalition
Partners: Al Mustaqbal Foundation (AMF), Directorate of Health Dohuk

Last updated: June 2018