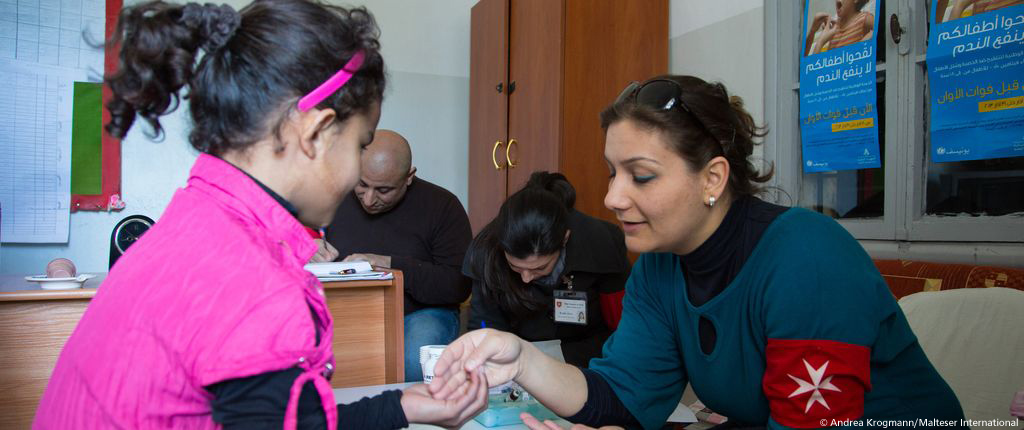 A health center for refugees and host communities
A health center for refugees and host communities
After the outbreak of the Syrian civil war, Lebanon opened its borders to more than a million refugees. However, accomodating the refugees has become a huge challenge for the small nation of 4.5 million people. It is estimated that two million Syrians now live in the country. The influx of refugees has not only affected the availability of resources such as land and water, but it has also had a negative impact on social infrastructure like schools and hospitals especially in remote towns like Deir-El-Ahmar, north of the Beqaa valley. With the high number of Syrian refugees in the regions - around 20,000 refugees to approximately 60,000 Lebanese locals, the situation is even more problematic, and there is an urgent need for a strengthened healthcare system.
To improve the general health situation and cater to the medical needs of both refugees and host communities, Malteser International is working closely with the Lebanese Association of the Order of Malta to help build a health center in eir-El-Ahmar. For this purpose, an existing hospital building will be rebuit into a functional health center and equipped.
The goal of the project is to improve the living conditions and health of Syrian refugees and host communities in the Baalbek district of Baalbek-Hermel province by strengthening the Lebanese health care system.
• Conversion of a hospital building into a functional health center
• Engagement of new hospital staff
• Equipment with medical equipment and ambulances
Country info
Capital: Beirut
Area: 10,452 sqm
Population: approx. 4.8 Million
Project data
Project duration: July 2017 - December 2020
Donors: German Federal Ministry for Economic Cooperation and Development (BMZ)
Partners: Lebanese Association of the Sovereign Order of Malta, Catholic Diocese of Baalbeck, Lebanon

Last updated: February 2018