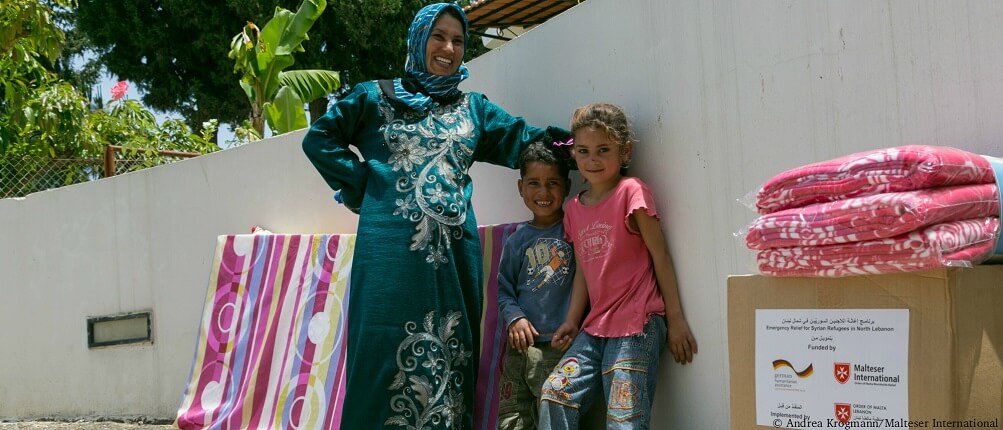 Emergency relief for refugees and their hosts
Emergency relief for refugees and their hosts
Syrian refugees in Lebanon are scattered all over the country, and their presence has not only overstretched local capacities and infrastructure but also negatively affected the living conditions of local communities. In addition, Iraqi refugees have fled to Lebanon and are struggling to meet their basic needs. Malteser International and its partner organization, the Lebanese Association of the Order of Malta, have been providing emergency relief and medical support for refugees and vulnerable Lebanese people since 2013. They have provided drugs and medical equipment, as well as food, hygiene kits, baby kits, children's clothing and other essential items in North Lebanon, the Beqaa Valley and in Beirut/Mount Lebanon.
Syrian refugees – the majority of whom are women and children – have sought shelter in empty buildings, construction sites and tents all over Lebanon. The living conditions of the refugees are deteriorating continuously. In total 70 % of them live below the poverty line. The number of poor people in Lebanon has risen by nearly two-thirds since 2011, and unemployment has doubled, meaning that vulnerable Lebanese people face similar problems to the refugees, and now struggle to meet their basic needs. Since summer 2014, there has also been an influx of Iraqi refugees fleeing the advance of ISIS. The key problem faced by both groups is a lack of opportunities to earn a living - resulting in basic needs, such as shelter, food, clean drinking water, non-food items (hygiene products, clothes, mattresses and blankets, winterization items), medical services and education going unmet.
The goal of the project is to improve the living and health conditions of vulnerable Syrian and Iraqi refugees and their Lebanese host communities by improving food security, hygiene and shelter conditions as well as medical care.
Equipping four Primary Health Care Centers with medical supplies, drugs and equipment in order to provide free examinations and treatment of people in need.
Distribution of 2,400 food kits, 2,250 non-food item kits, 2,250 hygiene kits, 1,600 baby kits and clothes for 2,900 children.
Country info
Capital: Beirut
Area: 10,452 km2
Population: c. 5.8 Million
Project data
Project duration: since August 2013
Donors: Nachbar in Not, Austrian Malteser Aid Service, Malteser International
Partners: Lebanese Association of the Sovereign Order of Malta

Last updated: January 2016