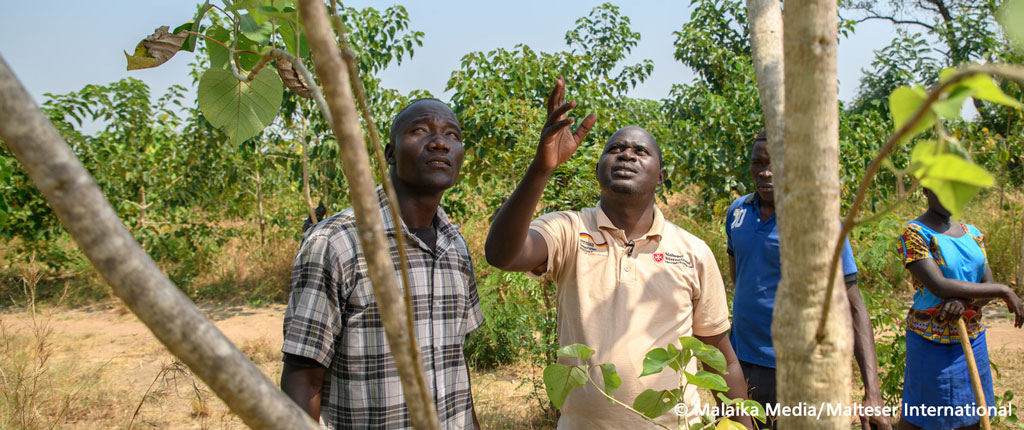 Let hope grow: planting trees for a better future in Uganda
For the people of northern Uganda, the effects of climate change can already be felt through changing weather patterns and irregular rainfall. The high demand for natural resources like wood continues to put an additional strain on the ecosystem.
Malteser International is working to address deforestation by planting 101,000 trees in the regions's Arua District, with a further ninety hectares of forest to be reforested. Julius Kijali, Project Manager and afforestation expert at Malteser International in Uganda speaks to us about the importance of protecting natural resources for people and the environment.
What can you tell us about the ecosystem in northern Uganda?
Julius Kijali: The ecosystem in Arua district is highly endangered. It has never been this dry. So for the people here, there is no doubt that climate change exists. They experience it on a daily basis. There used to be many trees in the region, which is no longer the case. Bushfires and deforestation are destroying forest areas which are essential for the environment and for the climate. Both the refugees who live here and the Ugandan population depend on wood and agricultural land for survival. They need wood for cooking and for their houses. But if nothing is done for the environment, the ecosystem will most likely to come to extinct. This would also have devastating consequences on the population.
How can Malteser International contribute to solving these problems?
Julius Kijali: At first sight, one might think that we are in a dilemma: How do we protect the environment and natural resources, and at the same time help the people who depend on these resources? In the end, we have a humanitarian mission. Secondly, it becomes clear that the ecosystem can only be preserved if people and the environment live in harmony and if resources are used sustainably. Only then will people have a chance of a better future. Protecting resources and improving people's life prospects go hand in hand.
What measures are we taking to ensure sustainable use of resources?
Julius Kijali: Our goal is to reforest ninety hectares of forest. To achieve this, we are working in close cooperation with our partners and with the local population. We train small farmers in sustainable forestry and agriculture. Young people receive adequate farming tools and training in running tree nurseries. This gives them an opportunity to plant trees in deforested areas, while earning a living. In order to have a more sustainable impact, we raise awareness about the importance of protecting and preserving the environment. The future of the planet is in the hands of the younger generations. This is why we train young people to become environmental multipliers and work with environmental clubs in schools. We also use radio talk shows to reach more people. In addition to protecting the environment, we wish to improve people's health and nutrition. To that end, we will be distributing 4,000 fruit trees to families in need.
Why is it so important to plant trees?
Julius Kijali: Trees are a miracle. Reforesting the forest will make such a big difference. The ecosystem as a whole will improve in the region. We will have better air and the trees will have a positive effect on the water tables. They also provide shade for the people. Reforestation will also reduce soil erosion and create a good microclimate for plants to thrive better, not to mention improving people's livelihoods.
What does the project mean for you personally?
Julius Kijali: Nature and environment are my passion and protecting them is very close to my heart. We all depend on the environment and live in it. I am happy that with this project, I can protect the environment and improve the life of people here in Arua District. If we do not protect the environment, we are harming ourselves. I love my job and I am very grateful that we get support from people in Europe. In the end, everything belongs together. A tree planted in Uganda is just as important for the people who live in the other hemisphere.
This Lent, join us to plant trees against deforestation and poverty in Uganda.
Read more