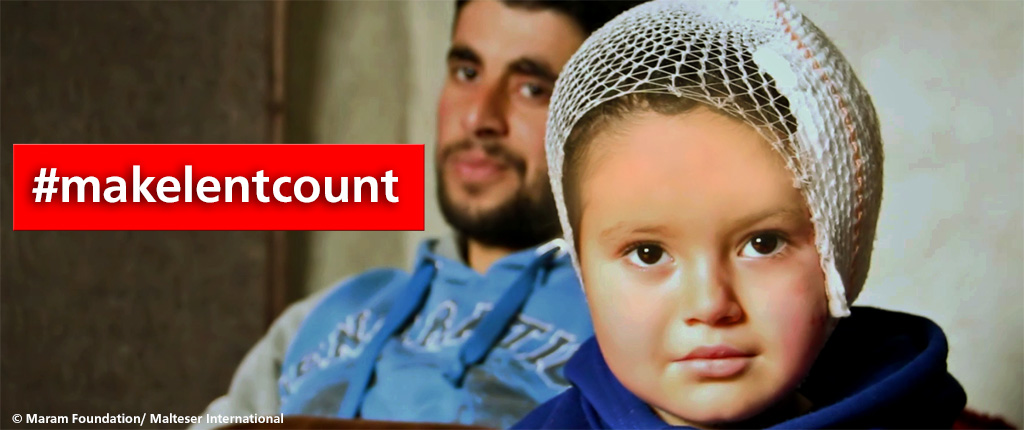 Make Lent Count: Lela needs your help!
Make Lent Count: Syrian children like Lela need your help!
Lela* wears a head bandage and her left hand is wrapped in muslin bandages. The 18-month child was lucky to have escaped with minor burns after a fire broke out inside her family's camp shelter. Lela and her family are refugees in the Aljabal camp for displaced people in Sarmada, close to the Turkish border. They lost everything in the fire.
Originally from the Al-Ghab Plains in Syria's northwestern city of Hama, Lela's parents have been on the run for five years. Their hometown is situated between Aleppo and Damascus, an area that has seen intense fighting in the last years. Lela's parents had no choice but to flee the constant bombardments. They finally found some refuge in the camp.
Lela and her three-year-old sister have never gotten to know their family's home. Their father, meanwhile, has not given up hopes of returning home one day. He is slowly recovering from the injuries he sustained in the fire, but his leg is still heavily bandaged. "Before the fire, I used to work every day to support my family," he tells us. "Right now, I can't work and it is such a hard situation for me."
With the help of Maram Foundation for Relief and Development, a Syrian partner organization of Malteser International, the family has been able to get what they need to cope with the hard life in the refugee camp. They have received mats, mattresses, vital household items and hygiene materials. Malteser International and the Maram Foundation have been working together since 2016, providing people in Aljabal camp with life-saving relief supplies, while making clean water available and ensuring sanitary conditions in another camp by emptying the septic tanks as well as waste disposal in another camp.
Lela's father is grateful for the help he has received so: "It feels good to know that we are not alone in this difficulty", he says.
___________
*names have been changed
How you can help children like Lela this lent

Your donation can help save lives.