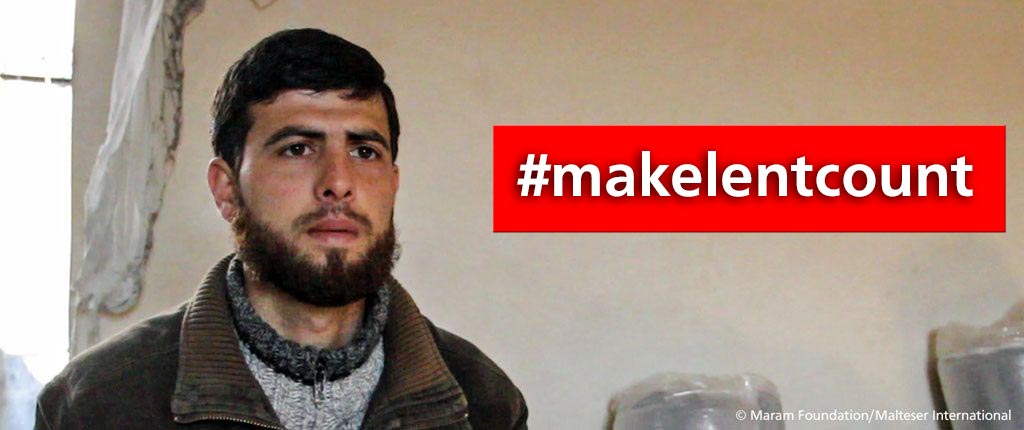 Make Lent Count: "We had lost everything again"
Hamid's story: "We had lost everything again"
Deep in mourning, 29-year-old Hamid is standing between the charred remains of his shelter inside a refugee camp near the town of Aldana in Syria. The war had forcibly displaced Hamid and his young family from their homes. The emergency shelter became home for the family until a fire broke out, leading to the death of their second youngest son.
Hamid works as a teacher while his wife takes care of their three little children. The four are at home when a fire breaks out in their emergency shelter. Thanks to their neighbours, the fire was extinguished and the mother and her three children were rescued. Everyone suffered severe burns. Three-year-old Abdulrahman and two-year-old Mohammad were so badly injured that they had to be transported to Turkey for treatment.
In Syria, providing medical care for sick people is difficult, most hospitals and medical facilities have been destroyed in the war, and the public health system has collapsed.
Unfortunately, Hamid and his wife were denied entry into Turkey. So when little Abdulrahman died of his burns, his parents were never had the chance to hold him one last time. Two-year-old Mohammad is still alone in the hospital. No one knows when his parents will finally be able to see him again.
Hamid and his family receive support
Our Syrian partner organization, the Maram Foundation, is partnering with us to support Hamid and his family with whatever essentials they need. Having lost all their belongings in the fire, they received mattresses, household articles, cooking utensils and toiletries. "I had lost all hope," Hamid says. "This assistance has restored some hope."
Malteser International and the Maram Foundation have been working together since 2016 to provide residents of the Kalbeed refugee camp with life-saving supplies, including water and sanitary materials. We have also provided septic tanks in the camp to support adequate waste disposal.
More than 12 million people - over half of Syria's population - have been displaced as a result of the war. About 5.6 million people now live as refugees in neighbouring countries and around the world. Since 2012, we have been providing humanitarian aid in Syria, supporting a total of nine health centres, three hospitals, two blood banks and a medical oxygen production facility in North-West Syria.
How you can help families like Hamid's this lent


Your donation can help save lives.