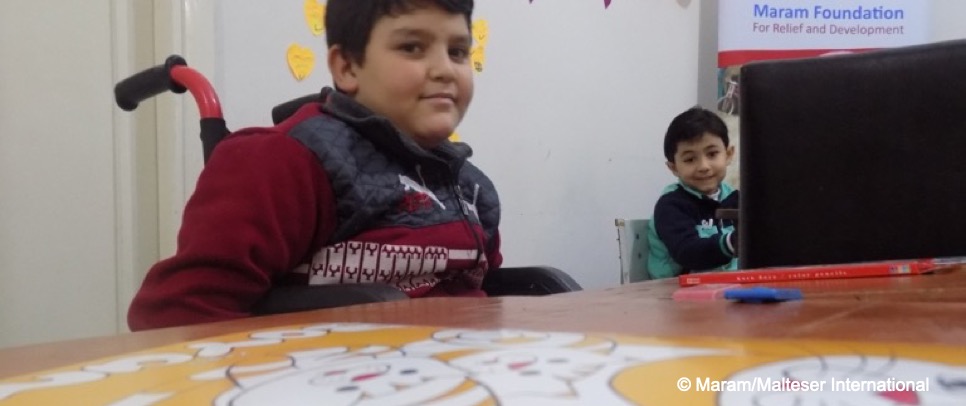 A refuge for Syrian refugee children
A refuge for Syrian refugee children
Many refugee children came to Turkey from Syria without their parents. They often have no one to take care of them. We want to give them a safe space where they can thrive.
We want to use daily lessons to compensate for their educational and language deficits, thus handing them a key to good integration and a bright future.
Because everyone deserves a chance, especially children! For this purpose, we support our local partner organisation Maram, which has opened a day care centre in Reyhanli specifically for Syrian refugee children. Help out and donate now!
In many cases, Syrian refugee children have come to Turkey without their parents. They have been taken in by distant relatives or former neighbours. But experiences such as war and violence, flight, the ongoing separation from one's parents and the often poor living conditions of host families are particularly traumatising in childhood. The host families are often overwhelmed as they do not receive any support. Domestic violence, child labour and forced marriages have already become more frequent.

The war has triggered an enormous educational crisis.

The war generation could not attend school for years. Access to education and psychological care would be an important key to freeing the children from the vicious circle and giving them prospects for a good future again. However, there is a dearth of offers for the special needs of Syrian refugee children in Reyhanli, Turkey. The children do not speak Turkish well enough to participate in lessons. Furthermore, educational establishments have already reached the limits of their capacity especially in the border region around Reyhanli.
Children deserve a chance at a good future. We want to help the refugee children from Syria in their development and integration and create good prospects for them.
We have created a protected and child-friendly space for the children. Here they are given freedom and opportunities for positive development. Boys and girls benefit equally from our offerings.

We plan indoor and outdoor activities on a regular basis.
We offer daily lessons to the children. We teach them Arabic, Turkish, English, Mathematics, Science and Religion.
Our Syrian employees also receive Turkish lessons.
We offer psychosocial support to the children and their families or host families in order to be able to cope better with their experiences during the war and their present situation too.

The measures will be carried out by highly motivated and qualified employees of our local partner organisation Maram.
Learning to draw at the Maram crèche in Reyhanli
Country info
Capital: Ankara
Area: 783,562 km²
Population: approx. 80.8 million
Project data
Duration: 15 May 2018 – 14 May 2019
Financing: Donations, Gerda Henkel Stiftung, Nachbar in Not
Partner: Maram Foundation for Relief and Development

Last update: April 2019